Many have already heard of the best tuxedo rental store in Arizona: Rose Tuxedo.  But, some may not know that there is another spot served by this much-acclaimed store. We want to lay out the welcome mat for you, citizens of Arizona. So, whether it is an anniversary celebration, a prom, a Quinceanera, a wedding, a gala, whatever the occasion, you can depend on Rose Tuxedo for your formal attire needs.  Go to the experts, go to the experience.  Go to Rose Tuxedo, serving all of AZ!  You will be so happy that you did.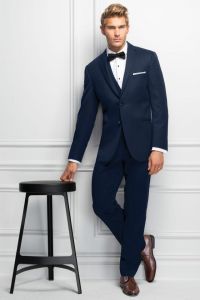 Rose wants it to be effortless for you to obtain your formal wear when you need it.  They also want it to fit perfectly, and they want you to have the accessories you need. Just a phone call away, you can set up an appointment for service and alteration, or you can walk right in and a representative will be with you momentarily.
Rose Tuxedo with 30 years Experience
We want to show our Phoenix friends how we do business. That's what 30 years of experience does.  It makes a company realize how important its customers are.  It teaches the staff how people want to be assisted.  And it ensures that if you're not quite sure what you are doing, they do.
It's not every day that a gentleman needs a formal suit.  But when he does, he wants to be certain that it is appropriate, tailored impeccably, and dashing, of course.  That is exactly what you can expect when you walk into any of Rose Tuxedo stores.  The same great customer service and plentiful inventory will be available wherever you shop Rose Tuxedo in the Phoenix area.
Arizona Residents, we are your neighbors!
For our friends in Arizona, we are just a phone call away or a short drive. Renting a tux at Rose's can actually be an enjoyable experience.  You do not have to know all there is to know about party attire.  You do not have to know what shoes to wear with your tux.  We have well-trained, hospitable staff to do this for you.  On the other hand, you may have done this dress-up thing a time or two before.  Speak up; say what you prefer.  Rose's staff can make it happen.
We have the Credibility that matches our Services
If word of mouth has a beneficial effect on a business's reputation, that must be why Rose Tuxedo is as well-known and well-respected as it is.  An institution in the Phoenix area, the good service that people have had for over three decades has been passed around like a good recipe.  You will feel the same way when you walk into Rose Tuxedo because that reputation lives on in every location that has been opened.