Rose Tuxedo has been family owned and operated since 1982 and are one hundred percent dedicated to serving the needs of people in Phoenix, Arizona as well as the surrounding areas.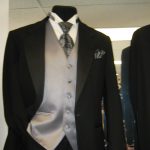 This tuxedo rental service offers customers a large selection of the best brands and styles in tuxedos all in mint condition. A tuxedo from our shop will be perfect for any wedding, prom, or quinceanera.
Rose Tuxedo is located in Phoenix, Arizona and has been serving Phoenix and also surrounding cities for years including Avondale, Tolleson, and Goodyear. Our tuxedo shop is a family owned operation and has been personally handling tuxedo rentals since 1982. We build personal and lasting relationships with customers so that clients can become comfortable and trust that our business will satisfy their needs each and every time. Since our operation has existed and served the same areas and people for so long, we harbor a deep connection and love for our city as well as the cities we serve.Our tuxedo shop has a one of a kind connection with the history rich and unique city of Phoenix, Arizona and its surrounding cities. The connecting cities Avondale, Tolleson, and Goodyear that surround Phoenix are full of rich culture and a vibrant population. Over the years, Avondale has seen an explosive increase in population taking it from a small town to a bustling city full of opportunity while still maintaining that small town feel and atmosphere. Tolleson, also a city on Phoenix's border, is a city that retains a small town vibe as well. It offers the peacefulness and tranquility of a quiet home town while still being neighbors to the bustling city of Phoenix. Like Tolleson and Avondale, the city of Goodyear is also capable of offering residents a small town feel while still being close to vibrant cities. Goodyear is also home to the Goodyear Ballpark, the place where the Cleveland Indians and the Cincinatti Reds host spring training. Maryvale Arizona host the Milwakee Brewers spring training. Tuxedo rentals in Maryvale for Prom's, Quince and Weddings.
Rose Tuxedo has been serving these charming, culture rich cities for years and is fully experienced and capable of satisfying any of our customer's tuxedo rental needs.