Renting tuxedo
Renting tuxedo for out of state guys.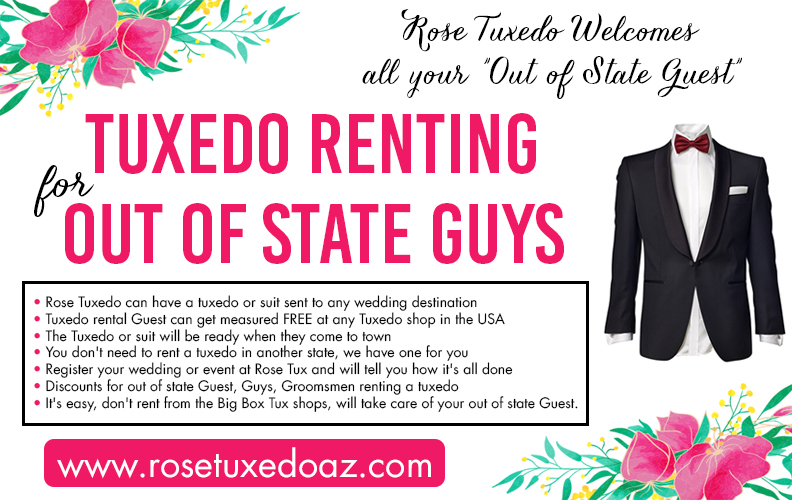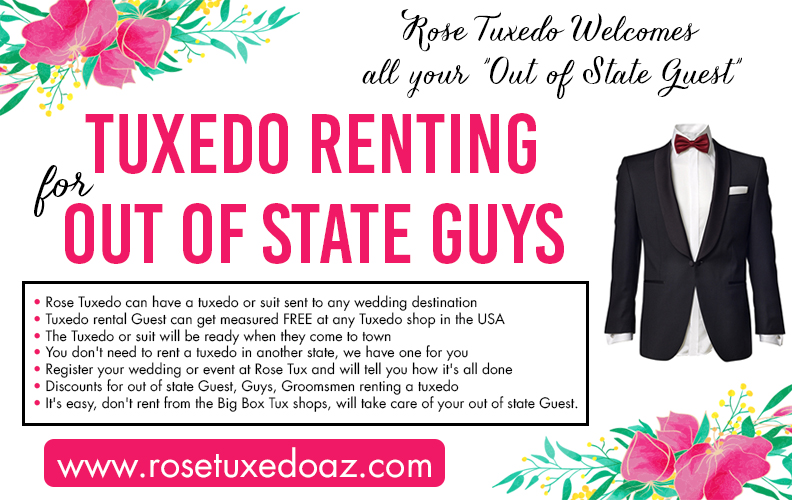 Our Measurement Form is a tool you can use to collect the necessary tuxedo measurements for yourself and/or the members of your wedding party. It is especially useful if any of your gentlemen are too far from your chosen Rose Tuxedo in Phoenix AZ locations to be measured. Here is one of our Brides Testimonials that we can handle your Tuxedo's for out of state guest.
If you have any guys that are out of state – we have over 1000 locations nationwide that can professional measure your wedding party. Click here to find a location that is closest. We recommend that everyone is professionally fitted to ensure the most accurate measurements possible.
Once your guys are measured they can call, email or enter measurements on our website. It's simple! And the best part is, when they get to their Rose Tuxedo location for a final fitting, we'll make sure everything is perfect in time for your big day! We can even arrange to ship your tuxedo to your guest a week a head of time so they can try it on and bring it to the wedding and a box to return it, all FREE!!! Trust me, you don't need to pay crazy high prices at the big box Men's Formal Shop just because your guys live out of state, that is a myth. A local Specialist has all the tools to make it nice and easy for out of state guest.
With a local warehouse that houses all of our products near you, you'll rest easy knowing it's just your guys flying in for the big event, NOT your tuxedos. Last minute adjustments are the norm, not the exception, so plan ahead and get the guys in for a final fitting as soon as they arrive in town. There's literally nothing that we can't adjust with a day's notice!
What if some of my wedding party lives out of state, how can I get them fitted?
It is very simple! Have them go to their nearest tuxedo rental shop and ask to be fitted, have them get a copy of their measurements and then go to our out-of-town measurements page to send them to the Rose Tuxedo store you registered with! or call, email or enter measurements on our website.
Does everyone need to be fitted at the same Rose Tuxedo location?
No. All Rose Tuxedo locations are connected via our extensive computer network so your party can conduct business in whichever of our locations is most convenient for them.
Pickups & Returns
When do party members pick up their garments?
The date of your final fitting/pickup will be determined by you and your PT formalwear specialist when you register your wedding. Typically we schedule pick ups about 1 to 2 days in advance of your wedding so that your party members don't need to rush at the last second. We also strongly recommend that all members of the party try their garments on when they come to pick up their garment. This final fitting is done the following day to ensure that our guests are satisfied with the fit of their garments.
Do tuxedos ever need last minute adjustments?
With changes in body size of differences between designer cuts, it is sometimes the case that customers feel more comfortable after an adjustment or two has been made to their garments. These adjustments can be made while you wait, in some cases however a follow up visit my be required for some adjustments.
When do the tuxedos need to be returned?
We generally schedule garments to be returned the day after the event. If you'll requrie more time be sure to tell your formalwear specialist at the time of pick up.
What if I am going on a cruise or an extended honeymoon, how do I return my tuxedos?
Generally, tuxedos are due to be returned the day after the event. Have a trusted friend or family member bring your tuxedo back.
Do I need to return my tuxedo at the same location where I picked it up?
No, you may return your tuxedo to any Rose Tuxedo location.
Call anyone of our Rose Tuxedo shops and ask us any question you want about Renting a tuxedo for out of state guys. We specialize in having a huge inventory ready for same day tuxedo rentals and suits. Phoenix 602 957-0089 NW Phx 602 375-8280 and Mesa 480 831-5255