Tuxedo rental Glendale AZ near you at Rose Tuxedo.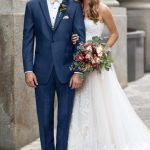 A Tux will be worn in several occasions like in your marriage, proms or dance party and during any traditional parties. Prom Tuxedo discounts for all Glendale high School Students have been going on for over 26 years at our Rose Tuxedo 35th ave and Peoria location.
We have all the latest designer tuxedo styles and colors.
As time passed, several other designs and styles are bought and certain tux suits with varied alternative apparel accessories have become popular. We have three different locations in Arizona one among them is Tuxedo rentals Glendale AZ. We have the finest quality of tuxedo suits with a wide range of styles and designs that you could wear for almost  every occasion.
There is no need to do prior appointment for renting tuxedo as we offer the same day service also. We provide tux suits for rent in each size for each kind of body physics, like slim, short & broad men or wide shouldered men.
If you are small in height and slim, then single breast button jacket with some slim fit pants would give you an awesome classic look.
If you are wide shouldered then never wear double breast vogue coat, as a result of it will highlight the width of your shoulders. Tall and big men have a choice of a vest if possible or going with a waistband. (cummerbuns)
For what ever event or occasion you are going you have lots of choice on the shades and color for the tux suits, be specific on whether it is a morning or an evening gathering.
We have a wide variety of colors in tuxedo suits like gray, black, navy, blue and brown.  Different occasion have different dress codes like black is solely socially acceptable color for attending a funeral and a blue pinstriped suit reflects a portrayal of power and authority.
We even have accessories to rent with tuxedos, which will enhance your look. Some of the necessary accessories are shoes, bow ties, vest in every color,cummerbunds, cufflinks and waistcoats which will utterly match your tux suit. All these accessories are available at a very low prices.
We also help guide our customers when selecting the perfectly match tuxedo suit and accessories. The jacket is the main part of the tuxedo suit with lots of coat lapels to choose from- notch, peak, shawl and other kinds. Just before renting any type of tux you should be sure on which event or occasion you will definitely be wearing it. See if there is a dress code for this and mention it at the time of selecting the color of tuxedo suit. You should also be sure on the timing of the function and style of gathering, day or night time even can make a difference in your choice. Thank you at Rose Tuxedo, stop by were happy to help you.