Although graduation season is almost over, there are still some public schools that have not yet held their graduation ceremonies. If this is the case for you and your school, then this means that you still have some time to get your graduation suit ready. No matter if you will have a cap and gown type of ceremony, the graduation suit is highly important, so you definitely need to set every detail straight.
Although it may not seem like it, middle school graduations are somewhat of a big deal, because they are the last graduation before high school. More than that, they also mark the beginning of a new era and they are somehow seen as a passing ritual, because it means that they have successfully managed to become young adults.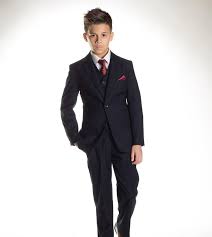 So if you are graduating from middle school anytime soon, or if you are a parent and you have a kid about to go through this ceremony, there are some things that you should know. First of all, you need a decent looking graduation suit. There is no doubt that this is a formal ceremony and that you need to have the proper, formal attire for it. It would be absolutely inappropriate to show up in sneakers and a pair of jeans. It would probably be funny for a couple of days, but then you will definitely regret this decision.
So the best thing you could do in order to get ready for graduation would be to either buy or rent a suit. Given the fact that you are graduating from middle school, this means that you are not yet done growing, so we would strongly advise that instead of buying a suit, you rent one. Besides, you have the most amazing suit and tuxedo rental at your disposal, so you will certainly fins something that both suits you and looks absolutely amazing.
Rose Tuxedo has a wide range of formal attires for men that you can choose from. More than that, we pride ourselves in also having available a very wide range of sizes, so you can rest assured that we will find something that goes perfectly on you. If not, you should know that all of our stores have a professional tailor on site, so that they can adjust the graduation suit to your exact measurements.
Now, if you are worried about the price, you should know that Rose Tuxedo is the most affordable suit and tuxedo rental in town. We have the most competitive prices and the most amazing offers so that each and every one of our customers can afford to rent our amazing suits and tuxedos .
All you need to do now is give us a call or drop by one of our stores so that you can pick the most amazing graduation suit!