The Wedding Groomsman's Duties and Dress
Groomsman Tuxedo, Besides the Bride, the Groom, and the Maid of Honor and Best Man, all eyes of those attending any wedding are on the entire wedding party lined up on the outside of the altar up front in a church, or on a beautiful sandy beach. Groomsmen are a special part of the group in that they are standing up for their Groom, and escorting the bride's party back down the aisle after the vows are spoken. This demands a graceful presence and demeanor, and never upstaging the Groom.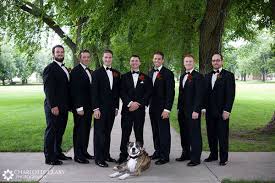 Groomsmen are expected to attend all pre-wedding functions, including ceremony rehearsals, rehearsal dinners, groom parties, and of course, the traditional wedding-night-eve bachelor party. This means meeting with the Best Man to help plan and organize. This may mean helping choose a venue for any of the possible celebrations, being available to help set up or drive other party members to and from the chosen place, if they need a ride, or be ready to make a quick, emergency shopping trip should anything be needed that comes up.
Helping with decorating the wedding-honeymoon getaway-car with bridesmaids is a fun, and maybe silly tradition, but that doesn't mean it can't be in a new and exciting way, or with a theme that has special meaning for the special couple.
They help usher guests to their seats and on their side of the aisle, usually seating bride guests on the left, groom guests on the right as you face the church front.
Purchasing a gift for the Groom, either on their own or in collaboration with other wedding party members is an unspoken but probably expected courtesy. It can be in addition to a regular wedding gift, or just for the groom personally. Having a "bro party" which is the flip coin of the bride's shower is a great idea!
At the reception, they will be in the receiving line to greet guests, they will sit at the wedding couple's table, and may be asked to dance with the bridesmaids or other single women on their own at the reception.
Groomsmen also pay for the rental of their own tux. Awaiting special instructions by the groom regarding style and color, there are many styles for the groom to choose from. Ties, pocket squares, cummerbunds and shoes are all part of the suit,and should look uniform if that is the preference of the groom. Boutineers are pinned to the left lapel and usually match other Groomsmen but the groom traditionally sports a more extravagant style.
There are as many shops and sites for wedding wear as there are weddings, but you will want to go with what the groom and/or best man directs. Prices for rentals can range from $75 all the way up to the $1000's, but the average price to date is $150