Homecoming Tuxedo and How and when to wear white tuxedos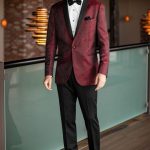 At present there are many styles and colors of Tuxedos for men, but from Rose Tuxedo today we will talk about a color that is probably one of the most difficult to use of all those available. And why do we say it is difficult? Because it is mostly used in seasons such as summer and autumn, because of the care it requires to maintain its color and cleanliness and by the requirement to know how to combine it to cause the correct effect. But let's talk better about its main advantages, and is that its use will differentiate -absolutely- and bring a freshness-in several ways and we can not have better reasons than those to take it into account and dedicate a post. Affordable deals for all students and their families.
fifteen tux
When do you use this type of Tuxedos?
As we said at the beginning of the post that is mostly used in summer and autumn. The white color and the materials with which they are usually made (linen or some material that is not thick), give a touch of exclusive freshness. Also because one of the styles to use it and that today takes a lot, is casual and this helps to combine any look with success, especially in these times.
tuxedos for fifteen
On what occasion?
The most appropriate occasions to use them would be in those that take place outdoors since it is more related to the leisure and the fun; as for parties and events in the rural or marine environment and, although this color is almost always reserved for the bride, it is not a sin to be used by grooms or witnesses, especially when the ceremony takes place outdoors.
burgundy tuxedo
Possible combinations
It is a color that should be carried very simply and seeking a balance. If you would like to find it in Rose Tuxedo Phoenix AZ you would not have any problem because in our services we will always advise you on this aspect, but, from now on we tell you not to recharge it with other colors and it is not advisable to combine it with gold or You will not want to wear it in the mafia style. It is always better to opt for broken white, cream white or even light brown, give a more refined touch to the look and at the same time continue to bring the characteristic freshness. Some options may be:
tux shirt colors
White shirt or some with very simple details like fine gratings in another color as clear as navy blue. Discard completely colors that make some strong contrast, is not the most correct.
As for the tie and the handkerchief you will have to be very careful if you chose a white shirt as it is one of the few details that are recommended to wear in contrast and this can provide a really elegant touch if it is what you are looking for. They are not recommended in this case white or very clear.
The socks can be worn white, the same color as the suit.
Shoes are not recommended to wear white, but we bet for light colors like honey or brown. Also, as you might consider a somewhat casual outfit this gives us chances of wearing some also casual shoes like some kind of moccasin, for example, blue and would not be so big, stumble.
Finally, we want to emphasize from Rose Tuxedo Phoenix AZ that, although we can say that black is a color to lead to any highly formal situation, white is much more flexible and perfectly can be that look you are looking for some ceremony or event in the coming summer or autumn? 602 957-0089 15 different color tuxedo shirts, tuxedo color shirts.