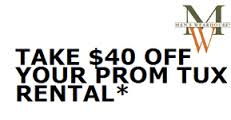 Prom is going on all over the country! If your school hasn't had Prom yet it's time to get your tuxedo ready! Whether you have a date or not, renting your tux from the best shop in town will guarantee to get you noticed by some pretty young ladies. Go stag with your team of friends and have your pick of eligible ladies. Go with your date and make all of the other girls jealous of your suave and debonair look. Let's talk about some tips for getting the right tuxedo for your Prom night. Ladies, you can consult our blog or magazines like Seventeen for more tips, and GQ is always a nice source.
When in doubt, go classic. A basic tuxedo is timeless and will look amazing every time. Black jacket and slacks with a white shirt and a classic bowtie (or one to match your date) is a perfect choice every time.
Bow ties are classic. You can wear a different type of tie for Prom, but ladies go nuts for the cute bowtie with your tux. You can spruce it up with some color or go basic, there's no way to lose.
Skinny ties are popular. If you don't like bowties or want to stand out you can consider a skinny tie in a fun color or with a fun accent.
Show your individuality. If you don't like the foolproof method, you can throw in something to make yourself stand out. Add a different colored shirt, an accessory, a hat, or opt for a different colored tux altogether.

Prom Bill Blass Grey Style 114

Vests make a statement. Not all prom goers opt for a vest or cummerbund, but it's not a bad idea. Match the color with your dates dress so you can remove your tux jacket when it gets warm, or forget the jacket altogether.

You don't need dress shoes 100% of the time. Consult your date on this. You can throw on some classy and clean sneakers (or any other type of shoe) but make sure they're clean and your date is aware (and ok with it). Dress shoes are a safe bet and you'll look amazing, but do you.
Have fun with the pictures. You don't have to look solemn or boring for your pictures. Try a funny pose, bring out accessories (hats, sunglasses, etc) for a couple fun pictures.
Choose a suit fit that fits your style. Not every man will want the classic tux , and some will look best in a slim version.

GQ's guide to the three types of tuxedos.

Don't be afraid of the "novelty" suit or tux, or a suit in general. While some may be hard to find, wearing a different colored or patterned tuxedo can make you stand out and make the evening a little more exciting. Also, sometimes a two-or-three piece suit will look totally appropriate.
Always consult your date in regards to color and accessories. Prom is the closest thing to a wedding most of these girls will have for a while, so let them be a part of your tuxedo decision.