For one reason or the other you've found yourself in this situation. Your brain is here and there but you need to calm down and think "What do I do?"
Do you go get something flashy at the thrift store or go hit a rental place for a quick fix in stock black tuxedo at a high price because they charge a rush fee? I hope not. If you have not already noticed prom season in the Men's formal wear business can be a very busy time of year. The big box Tuxedo shops don't usually carry same day tux rentals and if they have to order from a catalog you are the one who is going to pay the outrageous price. Just because you need a last minute Prom Tuxedo doesn't mean the tux rental fee should break the bank. Lucky enough for you, in the Phoenix valley, you have a tuxedo rental company that cares. Follow some tips below and you can still find a cheap prom tux rental.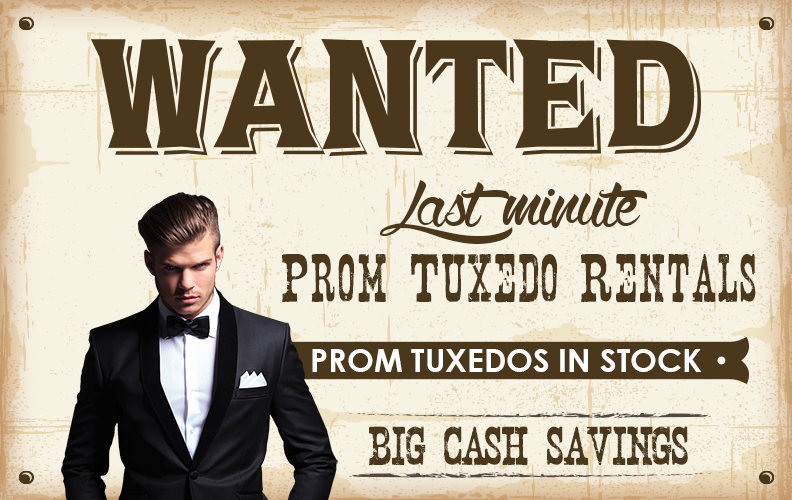 It's always good to plan ahead! We recommend placing the order for your tuxedo as soon as possible, though if you are one for procrastination, try to get it done no less than 14 days before prom. This allows time for delivery and ample time for try-on and exchanges in case something doesn't fit quite right. And if this is still not you then you are very lucky if you live in the Phoenix Arizona area and surrounding cities because WE CARRY IN STATE AND IN STOCK designer tuxedo and suit rentals for the same day and usually with no rush fee and at a great price. It should not cost you the cost of a new Tuxedo just to rent one for one night. Follow some simple rules and finding your perfect last minute prom tuxedo will be as easy as buying lunch at a restaurant.
1. Try to shop local, local tuxedo shops carry lots of tux's or some inventory and usually will have one for you
2. Try to be flexible if you waited to the last minute, you can't have everything anymore but you can find a affordable Prom Tux rental.
3. You can always ask for a better tuxedo rental price, it never hurts to ask.
4. Google-Same day tuxedo rentals, this should probably number one.
5. Maybe your dad's suit will fit and all you need is to rent a vest and bow tie or long tie in a color to match your girls dress.
Do I have to spend a lot of money on a prom tuxedo at the last minute? 
Not if you order it from a local tux specialist. While you can expect to pay no less than $100 for a nice tuxedo from your local tuxedo rental shop, If you're looking to go high end, your probably in more luck because not as many people rent the high end sometimes and they could have one in stock for you.  even our best tuxedos only go for $169.00 (the same tuxedo you would pay well over $200 for elsewhere) and there are plenty options in between. Discount Prom Tux's can be rented even at the last minute.
Try to stay away from online tuxedo rentals in a pain and usually not cheaper and forget about trying to sleep that night wondering if your prom tux