Planning a wedding can be overwhelming. There are so many choices and details to be attended to that one can easily lose sight of what is most important on the big day. Read on for three guiding questions to consider when you are lost in the wilderness of wedding planning.
1. What do you value?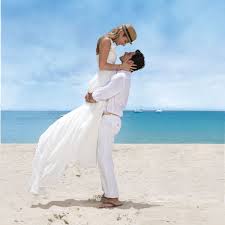 This question—what do you value?—can serve as a North Star when you are deep in the sea of decisions. Do you and your partner love food? Then perhaps you want to spend your time and resources choosing a reputable caterer and designing a mouthwatering menu. Is your family your constant? How will you engage them and make each person feel appreciated on that special day? Perhaps you find the most peace in nature. Then the search for a breathtaking outdoor ceremony setting deserves of your attention, especially for all Wedding Planners AZ.
2. How will the ceremony represent your intention for your married life?
The wedding marks day one of a lifelong journey. Although the ceremony and reception may be the all-consuming topics of your daily existence at this point time, it is important to remember that the marriage ultimately trumps the wedding day.
With this in mind, how will the wedding day reflect your intentions for your marriage? Is the wedding shaping up to be extravagant and expensive? Then you may be setting that tone for the life of your relationship. If you ultimately long for simplicity, why not pare down and express that intention from the get-go?
Will your bridal and wedding party include only lifelong friends or are you incorporating people that exist in the peripheral of your actual life? How does the bridal and wedding party reflect who you want to be involved in your marriage and your life when the party is over?
3. Why are you getting married?
Wedding ceremonies and celebrations are such ingrained traditions in our culture that it is to take the purpose of getting married for granted. Why get married? Each individual certainly has unique reasons for making a lifelong commitment to another and it can be a powerful practice to sit down and consider this question. Perhaps you'll want to write your thoughts down and share them your partner privately or as your public vows during the ceremony. Good Wedding Planners AZ or just planning your own wedding will take all this into consideration.
At Rose Tuxedos we have wedding suits for any occasion to help you during your wedding planning. We have destination tuxedos and suit rentals for every budget. Shop local at www.rosetuxedoaz.com. Thank you.
Tuxedo Mishaps to Avoid
Who else thinks weddings will go much smoother if men listened to women? You do, right?
Of course, you do. 80% of the time, wedding mishaps are groom or groomsmen related. From organizing an x-rated bachelor's party to wearing mismatched clothes at the wedding and getting drunk at the wedding party. So it's safe to say boys will be boys. But it's a wedding, and it can go smoothly if the groomsmen would learn from these 3 tips.
But of course, the groom has a part to play in calling his buddies to order. This is particularly important when it comes to the wedding outfit. Let me point this out, weddings are for brides, dear groom it's your wedding too but you're just the guest of honor. That said, let's talk about the groomsmen suits. I threw a fit when my wedding pictures were delivered because Mike my husband's friend forgot that he was supposed to wear a lavender tie and not a lilac tie. Totally ruined my wedding pictures. Well, my husband and Mike paid for that, they got some yelling.
Our dear grooms and groomsmen, you do not want to incur the bride's wrath. To help you are these three ways you can avoid a suit mishap.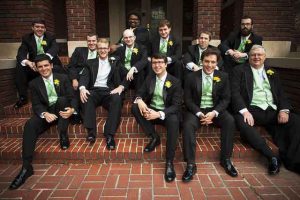 Getting the Wrong Fit
The only people in the world that can be excused when it comes to wearing an undersized or an oversized suit are babies. Why? Because they cannot help it. You can help it, it's in the name; groomsMEN. You're grown, adults. Let's give you some tips on how to know if a suit is the best fit for you.
Your jacket sleeves should not cover your shirt cuffs. They should leave at least half an inch showing.
The inseam of your pants should not be too tight.
Wear your pants below your belly button and ensure the cuffs do not bunch around your shoes.
Don't wear a jacket with some space behind your neck, it's too big.
Don't wear a jacket that's too tight. You'll know this if you see an x shape on your chest after buttoning.
You may want to go with wool suits, they fit better and look better.
Mismatched Accessories
This got me yelling at my husband and at Mike. Please, guys, know the colors you're supposed to wear and get them. A lot of thought went into the choice of colors. Don't ruin their efforts. You only have one job groomsmen buy what you were told. Because lilac looks very similar to lavender doesn't make it lavender!
Here are some tips for you.
Never wear white socks
Don't wear a belt and a suspender together, one at a time.
Do not wear a long necktie with a tux
Don't button the last button of your jacket
Brown belts and shoes should not be worn with a black suit
Your shoes and belts should be of the same shade.
Last-Minute Rush
You're were given details for your outfit at least 3 months in advance, don't leave it to the wedding eve. In fact, for all other tips to actually work, you have to avoid last-minute rushes. Place your orders in time. Let the tux or suit rental store know exactly what you need two months beforehand. Send your measurements in time.
Doing this early will save you stress, outfit complications, and the bride's wrath. Mike mentioned earlier actually got his outfit delivered on my wedding day. So there was nothing he could do to change the tie and he ended dressed like that to my wedding and ruining my perfect wedding picture. So get your outfit in time, it gives you enough time to make all the adjustments so you'd not look different from other groomsmen.
Rose Tuxedo is glad to offer their suit and tux rental services to you. Just make sure to place your orders on time and we'll make sure to get it delivered at the said time. If there are issues, make sure to send the package back so we'd make the necessary adjustments.