Looking at the calendar, or even just out of the window, it might seem far too early to think about the 2017 prom season. But Prom 2017 will be upon us before you know it, and now is the time to start thinking about all the things necessary to make yours a success. Speaking of thinking about proms, did you ever wonder how this event got its odd name?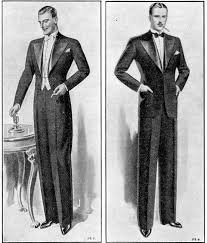 The very first prom was held in the late 1800s when some adults decided that college students needed formal lessons in "social etiquette" (manners). They decided the best way to do this was to have a fancy-dress dinner and dance. The event kicked off with the students and their guests promenading (or marching) as a group into the hall where the event was being held, and the prom was born!
By the early 1900s, proms had migrated from colleges to high schools, where it remains an institution today. While proms were always about dressing to impress, they really were not like the proms of today. Early proms were more dinners than dances. There were plenty of adults around too, to make sure that the diners practiced proper table manners, as these proms were heavily chaperoned. While there was certainly dancing at these early proms, prom goers would not have come with a special date.
Proms really didn't begin to look like the proms we know today until after World War II. By the early 1950s, high school students were given a great deal more say in the planning of the event. The prom dinner (and table manners) became less important, and the dance became the event's focus. Promenading in as a group was long gone, but dressing nicely for this event remained very important. As you might imagine, there have been some changes in prom fashions over the years, especially in prom dresses.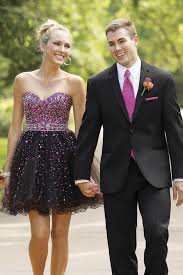 Early prom dresses were long, and much less "blingy" than modern day ones, especially during the Great Depression. Dresses started becoming shorter and more frilly in the 1940s and especially the 1950s. Dresses became longer for the "hippie chic" look of the 1960s, and dresses again became shorter with brighter colors beginning in the 1970s.
What were the fellas wearing through all these prom years? They were probably wearing vests and dinner jackets at history's first proms, moving into tuxedos by the 1930s. There's no denying that whether it was Prom 1917 or Prom 2017, everyone knows the clothing star of the evening was and will be the prom dress. But that doesn't mean that prom tuxedo wearers still can't look great and be comfortable for the big night. Rose Tuxedo  is your best choice for Phoenix tuxedo rentals in terms of both selection and price. Visit them at one of their three locations for assistance in continuing that proud tradition of the promenade. We have your Prom tuxedo rentals at the best prices and no rush fee if you decide to rent a tuxedo at the last minute. Phoenix Tuxedo rentals 4031 N. 24th street 85016 602 957-0089 www.rosetuxedoaz.com