A lot of people don't know this. But you are about to know it. Bridal colors influence the choice of groomsmen tuxedo a great deal. You don't just dress the groomsmen and bridesmaids like they are opposing teams on a football pitch. There has to be that unity yet distinction between them. And this has to be done with the best combination of colors. This will go a long way to contributing to a colorful wedding ceremony for posterity to learn from.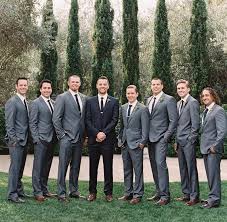 Groomsmen Tuxedo
As the groom, you just have to get the tuxedo, right? Think again! You'll also need to match the bridal colors. While you might think pink is pink, getting the right shade is very important to the look of your wedding.
Matching the vest and tie to the bridal colors has long been a challenge in the tuxedo rental business. There are many different shades of any color the bride will have chosen for her bridesmaids, and we need to do all we can to get an exact match for you and the groomsmen tuxedo.
Of course, many grooms do opt for a traditional black, white, or silver vest. Much like the white gown allows the bride to stand out from the rest of her party; this allows the groom to be the center of attention.
When you come to find the perfect tuxedos or suits for your wedding, working with an excellent supplier can make things much easier for you. We do everything we can to help you find the exact shade of color you need, whether it's a dusty rose, a sunset yellow, or a deep emerald.  Rose Tuxedo has one of the largest selection of wedding vest and ties and bows in-stock. We have been suiting the Valley of Phoenix for over 25 years and we go to the Men's formal wear convention every year to buy the latest colors and styles. This year solid color vest is pretty hot and bow ties have made a strong come back. And if we don't have a vest color you're looking for we will try to buy it from our long list of Tuxedo and Vest manufactures. They carry everything from solid vest to pattern vest and in every wedding color you can imagine to match your groomsmen tuxedo.
To find out more about how to match the bridal colors, and to start finding the perfect look for your wedding, give us a call or come by one of our convenient Arizona locations today!
Groomsmen  Tuxedo rentals
Groomsmen Tuxedos for Weddings
Men's Suit Rental
Wedding suits for Men
Tuxedos for Sale
Groomsmen Wearhouse  Tuxedo Rental
Grooms Suit
Groomsmen Tuxedo Rental