For your age, no one expects you to be an expert at tuxedo dressing. This is why it is always good to have a style guide or advisor to help you with what you should wear for formal events; in this case, your prom. If you are still unsure of how to wear a tuxedo for your prom, here are some of the essentials you need to know to make your look polished.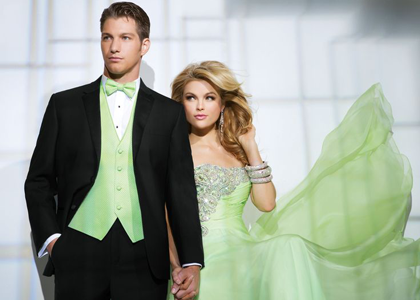 Jacket
Your prom is a formal event. This means that you should be properly dressed so that you can look presentable during the event. The basic rule in prom dressing is that the more formal you dress, the better you will look. A traditional look that will never fail you is a black tuxedo . Other options include dark blue and white tuxedos. You can also use pin stripes, however, choose the ones that are not too thick.
Tie
When you're wearing a tuxedo , make sure that you only pick one accessory from the available options instead of using them all together. You can either opt for a bow tie or a necktie. If you do not know how to tie a knot properly yet, you can opt for the pre-tied options so you can wear the tie comfortably. This can also be a great time to practice tying a knot. You'll need to learn it eventually, so why not start now?
Vest
If you will be wearing a vest along with your tuxedo, make sure it matches the color and fabric of the tie that you chose. If you are planning to coordinate the color with the dress of your prom date, on the other hand, discuss it at an early time so you two can coordinate your outfits.
Always make sure that your tuxedo does not clash with your prom date's dress. If possible, coordinate with one another so you can both have complementing clothes for prom. If you're still looking for a tuxedo for your prom, check out our available tuxedo rental options. You'll find one that will suit you best!