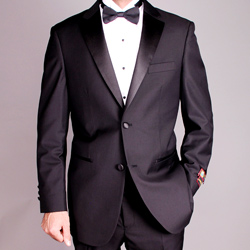 Tuxedo Rental
When you are getting ready to attend a special occasion such as a wedding, business convention, corporate event, or evening reception, it is important to get the right tuxedo for the occasion. There are various tuxedos available in the stores for your selection. There are several stores in the city that you can choose for your tuxedo rental. We provide a guide to the tuxedo stores to make it easy for you.
In case the occasion is a wedding, take note that the bride goes to a lot of the responsibility that goes with the wedding it is better to spare her a break and get your tuxedo without much hassle.
A wedding can be quite a daunting task with all the planning, endless phone calls, post-it notes, overwhelming parade of color swatches, and Advil. It can be awfully difficult to find all the answers to the questions and so to relieve you here is some help. Being in the tuxedo industry for many years, here is a simple step by step on how to go about in making a tuxedo rental much simpler.
The fist step is to make an appointment for a style and color matching combination. Make sure that you know the color that you desire and make sure that you have all the information ready like all the people's names, positions and what they will be wearing. Then get them to come to the store to be measured and all fittings should be completed by the date set by the tuxedo store.
If you are planning for a wedding during the peak season make that you have placed your orders as soon as possible for the number of orders for the tuxedo rental is quite overwhelming. Follow up on the people to attend the wedding confirming on those who have paid and pushing those who haven't.
It's always better to stay safe than to have last minute rush to the tuxedo stores. You can call well in advance to make sure everything is in place. Once everything is ordered and confirmed you can breathe easy and wait for the big day.
Great service    posted 11/5/2012 (updated 1/25/2013)
My husband rented his tuxedo from Rose Tuxedo and I absolutely loved how he looked! They're a small shop and it doesn't look like much on the outside, but they have a great selection of nice looking suits(colors and styles). The employees were very helpful and friendly. My husband didn't know his measurements so they fitted him, they focused on him and made sure he was going to like what he wore and wear it with confidence. We were able to snag a good deal for him and his groomsmen, which included everything down to the shoes. I would definetly try out rose tuxedo.
Taylor Swift looked awesome in a White Tail tuxedo on the Grammy's. For all the ladies that want to copy this style and look hot stop by one of your local Tuxedo Rental shops and just ask to rent a White Tail Coat. The rental feel will be reasonable and you can buy your own cute shorts and boots or hi heels. Or stop on over to Rose Tuxedo and will show you how to rock this look.  So sexy, stylish, unique and a huge savings.
Fashion Slims fit coats are in again this year and we own them.  Jean Yves 2 button Peak.  A great look  for some guys.  Stop by any one of our 3 valley location in Arizona. Have a great wedding and prom season.
The Oscars 2013, it's always a big black tie even and here are some thoughts and observations.
The Academy Awards 85th Annual Oscar Awards Show was held Sunday
February 24th and Bow TIES are BACK!!
Our unofficial tallying we do each year on bow/long ties and lapels the men chose makes it official bow ties are back! We can only count the gentlemen who walk on the stage which of course does not take into account the audience. This years show had 55 guys in bow ties verses 18 in long ties. During the performance for Les Miserables a group of performers were on stage with NO tie and too numerous to be sure of the count.
Lapels styles as you may have guessed were overwhelmingly in the Peak lapel as style of choice for the men's designers. Again taking into account the Les Miserables group which were hard to count, the totals are:
Peak Lapel: 43
Notch Lapel: 26
Shawl Lapel: 8
While again overwhelmingly black for this occasion Midnight Blue and Grey were also very much present.The International Formalwear Association would like to salute Hollywood on coming out dressed to honor the formality of the occasion, and very much looking the part.
With prom season here,
"You never get a second chance to make a good first impression. Our time to leave the young students with a positive experience is now.
The overwhelming process for first time prom customers to make a choice to match their wants and needs for individuality and mom and dad's price range can be daunting. Rose Tuxedo is always prepared for the increase in seasonal business. We have added part time help at all of our 3 valley locations, Mesa, Scottsdale Tuxedo's and Phoenix Tuxedos.
The more consumers are a
part of your brand or organization, the more they will love, trust, and respect you, and the more you'll earn their
loyalty and long term business.
So, when it comes to that all important first impression, what will they be telling their friends? Stop by any Rose Tuxedo shop in Phoenix, AZ one of our locations to rent a tux or just say hello. Rose Tuxedo has same day tuxedo rentals and no rush fee. Rose Tuxedo has one of the largest selection of colored vest to match every prom girls dress and we have the best tuxedo rental prices in Arizona. Thank you Rose and have a safe Prom to all.
Rose Tuxedo for Prom Tuxedo 2013 save over 40 percent off our competitors  prices. We have a vest color in stock to match every dress color and if we don't we will get it. We have 3 valley locations in Arizona, Phoenix, Mesa and Glendale. Rose Tuxedo has tuxedo's now and our tux's are in state and no rush fee ever. We can suit up any last minute prom goer and his friends. So stop by and rent a tux in one of our Greater Phoenix locations. You will be happy you saved money on your tuxedo rental and the best service and men's formal wear outfits in the valley at the cheapest tuxedo rental prices . Thank you and have a safe frugal prom. Every high school is welcome.
Hello from Rose Tuxedo in Phoenix, Arizona. Prom is still on but it's also Graduation time. Lost of students want to look sharp when they walk down to receive their diploma. We have been renting
Suits
to students for years during Graduation's. We have all white tuxedo's,
suits
and so much more. Maybe you just want to wear a nice pair of pants and a crisp clean shirt with a vest and tie. Rose Tuxedo has it all with the best prices and service and product. Stop into one of our 3 valley locations and will suit you up for your occasion. Same day service is no problem and student discounts. You will have the best suit or tux price's guaranteed.  Student discounts all year. Congratulation's to all and have a safe fun summer. Rose Tuxedo Arizona
Rose Tuxedo has the newest and greatest Tuxedo to rent. Why pay over $120.00 to rent a tuxedo when you can get the same designers in stock at all of our Rose Tuxedo shops for much less. We rent tuxedo's to every surrounding city, Phoenix, Mesa, Scottsdale and Glendale with 3 easy to find locations. So come on in and rent a tuxedo now. Summer specials on all of our Summer
Wedding Tuxedo
's. Light weight wool so you can stay cool and look your best. Same day tuxedo and suit rentals and never a rush fee. Have a great Summer and we look forward to seeing you and your party soon. Will work with any budget so just let us know and you will get the best deal on your rentals. Thank you.
Men's Wearhouse fired their founder Goerge Zimmer yesterday and there is lot of speculation as of why.  We could never understand the high prices they charge for a tuxedo rental compared to Rose Tuxedo or most any other tuxedo specialist. We all buy the same tuxedo's every year from the same manufacturers but Men's Wearhouse rents theirs for 3 times the rate as others. It's the TV advertising that draws so many customers to them because it's not the service. They have so many unhappy customers and were always fixing their problems every weekend. They have no instate inventory but what gets shipped for your wedding is what you have to wear. The little guys keep inventory in stock so we can make changes and corrections at the last minute. It should be interesting when the reason for the firing is known. Visit your local Tuxedo specialist for big savings on
tuxedo rentals
in Arizona and great service.
Do you have a summer destination wedding? Maybe your going to Las Vegas or to a beautiful beach somewhere to get married. Rose Tuxedo and other Tuxedo specialist carries tuxedo's that are designed to fit your occasion. We carry a light Tan wool that has been very popular for hot summer weddings or anytime of year. Great for a beach setting, some wedding parties even have the guys wear sandals with the Tuxedo on the beach. Great Tuxedo prices and extended time so you can travel with your tuxedo and enjoy your time away without rushing to bring it back, all for the same price as a normal rental. Like us on Facebook and stop by one of our 3 valley locations and have a look. Thanks and have a great Summer.
Hello, the IFA (International Formal wear Association) 2013 convention is coming up August 2-3 in Chicago, Ill this year. It's going to be really good and have all the new Tuxedo and Vest styles and colors and all the new trends will be talked about. The past couple of conventions has really shown that the bow tie is making a come back. For years the most popular formal wear neck tie has been a long tie. I'm sure full back vest will still be in style but the cummerbun has been talked about also over the years. Last year Grey Tuxedo's were still the biggest sellers and it looks like Grey is still in style. Brown Tuxedo's were big 2 years ago. I will bring you all the info I get at the Tuxedo convention and share all the latest styles and colors and formal wear trends. Thank you
Summer is almost over and for some areas in the US the formal wear business will be picking up.  Home coming formal attire for High School students and College and October, November and December have always been popular months for Brides and Grooms. You still have plenty of time to register your weddings and pick out your outfit's. It looks like Green is going to be a popular color for vest and ties and the ladies dresses. As for the men's tuxedo you can never go wrong with a 2 button designer tuxedo with a fullback vest and tie. Bow ties have become very popular the past year and our bookings show it's 50/50 with bow's or neck ties. More Tuxedo convention info will be coming up in our next posting. Thank you. Rose Tuxedo
Hello, today I want to share a little more about the Formal Wear Bow Tie. I have written a few times that wearing a bow ties has made a big come back. Years ago that's pretty much all they wore when it came to wearing a tuxedo. Today it's still 50/50 between wearing a bow tie or a long tie but one of the calls we get at our tuxedo shops a few times a month is; "do we have self tie bow ties". Almost all the Tuxedo rental bow ties are already tied and you just hook it in the back, but a cool look is a self tie bow tie just hanging around your neck untied. The big problem with self tie bow ties is they are very hard to tie. I have been in the formal wear business for over 20 years and I still can't do it but today I'm sharing a video for all of you to practice and learn, click on the link and enjoy-Good luck.  Best wishes to all Fall Weddings. https://vimeo.com/59804651