Valentine's day is a natural choice for your wedding
When planning your big day there are so many details to think about. Your dress, your bridesmaids, the flowers, the venue, the guest list… it seems to go on forever. One thing that you shouldn't stress about is the date. Valentine's Day is the most romantic day of the year! What better day is there to celebrate your love with a beautiful Valentines wedding?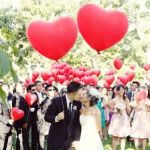 A February Wedding offers such beautiful inspiration! A Valentines Day wedding already screams elegance and romance. What could be lovelier than your reception venue decked out in roses and soft white lights? Add crisp white tablecloths strewn with rose petals and simple centerpieces of candles in glass globes and you have a tasteful, elegant, and romantic setting. A tiered cake decorated with a waterfall of flowers or a tasteful white cake with gold filigree is the crown of a perfect day.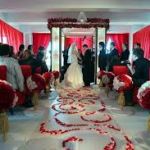 When you think of Valentine's Day you think of chocolate and roses, right? Chocolate is synonymous with Valentine's Day. Decadent chocolates make for a simple party favor. For even more decadence, consider adding a sweets and treats bar so that your guests can build their own favors from a selection of everyone's favorite candies. After all, who doesn't love chocolate?
Valentine's Day already has a color palette of reds, pinks, and white but don't limit yourself to thinking only in the colors you'd find in the candy aisle at this time of year. These colors include everything from a deep wine red to a pale pastel salmon. Imagine how beautiful your bridesmaids would look in draping burgundy red gowns or blush pink tea dresses. Consider an off the shoulder look with a sweetheart neckline for yourself or some lace detail on your veil as a nod to old Hollywood elegance.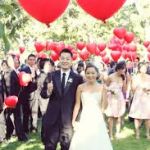 Your groom and his groomsmen can doll up their suit rental with a striking red tie and roses pinned to their lapel. Imagine how handsome your groom will look waiting for you at the end of the aisle in his tuxedo.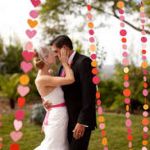 When you're looking for help with your suit rental remember that Rose Tuxedo rental has three convenient locations in Arizona. They have been in the wedding business since 1982 and are here to help you make tuxedo rental simple and easy. They have been a part of over a thousand Valentines wedding so they are prepared to help you make your dreams come true.