Where can you rent female tuxedos in Arizona?
Rose Tuxedo rentals for females offer the solution to one-stop shopping for the perfect style, color, accessories, and alterations for the female couple's wedding day. Both partners can step out of the traditional white wedding dress and step into a comfortable, unique tuxedo for their affair. Women have loved the look of men in tuxedos for centuries.
Now they can continue to look feminine by wearing the same distinctive and outstanding attire.
Rose Tuxedo, AZ Wedding Attires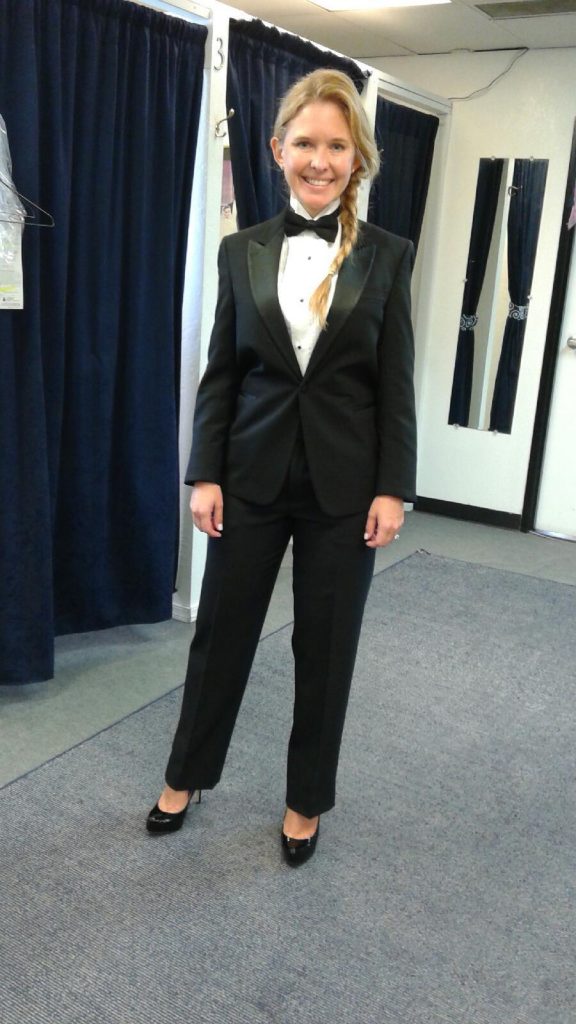 Rose Tuxedo Phoenix Weddings carry a fashionable casual look. Or dress to the nines with a polished Victorian Tails classic style. Your imagination is limitless with mixing long and short pants and skirts with short or long sleeve jackets. The boxy cut tux has plenty of company in the closet with the long peplum back-styled jackets. Also, short-waisted with single- and double-breasted styling to satisfy your distinctive tastes.
Depending on how the jacket opens and closes, you are able to wear them without a blouse and shirt and show your lovely cleavage. There are a variety of styles of ruffled and pleated shirts with cuff links that add to the suave look of wearing a tux. The curves of a woman can be clearly shown in a jacket and trousers made to fit or enhance the Big Beautiful Woman's physique. Same-sex weddings are awesome, especially in the great Phoenix weather.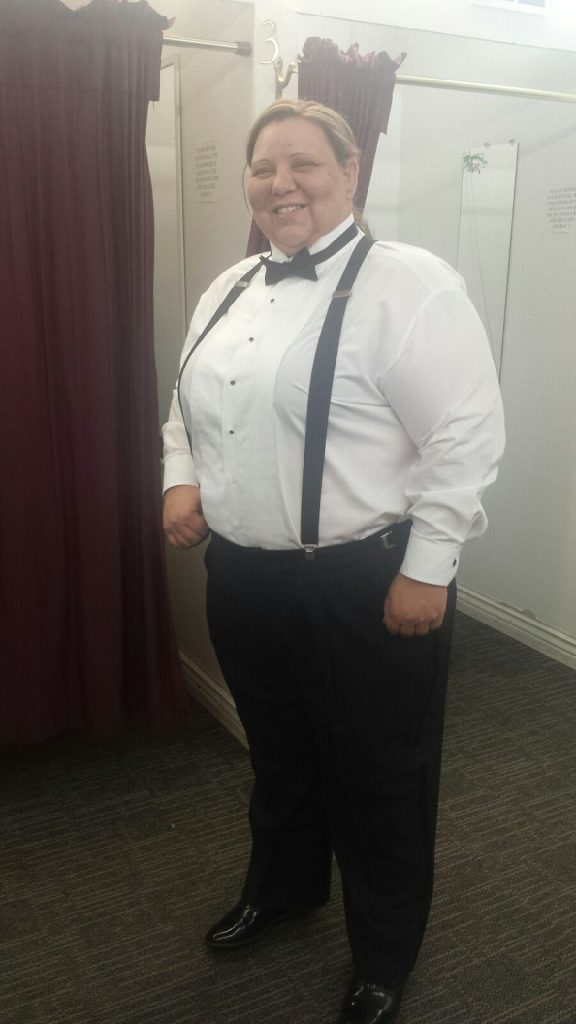 Female Tuxedo Colors
The solid black and white tuxes with and without black lapels are stunning paired with the right accessories. You can have classic and stylish suspenders, ties, bow ties, and cummerbunds to match the decor of your venue and your partners' favorite color. The selection of soft hues in the pinks, blues, yellows, and tans gives you the advantage of creating a unique flavor for your tux. The bright and bold colors of reds, greens, and orange are fashionable and exciting to wear.
The classic colors of Champagne, Silver, and Peridot still carry the air of luxury and elegance. You and your partner are the designers of your smart and chic-looking tux.
Why Rent Women Tuxedos?
#1 Love Wins!
A couple of years ago, the Supreme Court changed the legal definition of marriage, changing the lives of so many people. Celebrate this by throwing expectations out the window! Try something different, make people think, and look great doing it. Not every wedding needs one person in a dress and the other in a tuxedo. So challenge expectations and have fun with it!
#2 Gender Equality
Not every woman likes dresses (especially of the ball gown or form-fitting type) and our tuxedos give you the option to feel comfortable and fashionable if a princess wedding isn't your style. Throw it to the man and wear pants to your wedding—it's your day after all, and your happiness and comfort matter most.
#3 Fun Wedding Pictures
If you don't want to wear a tuxedo for your reception, you can at least have some fun wedding photos! Rent a few tuxedos for you and your girls and take some silly pictures! Men in dresses are entirely optional (maybe try Kilts?). Mix up the fairy tale wedding and a modernistic view of marriage. Show that you, too, can wear pants in this relationship!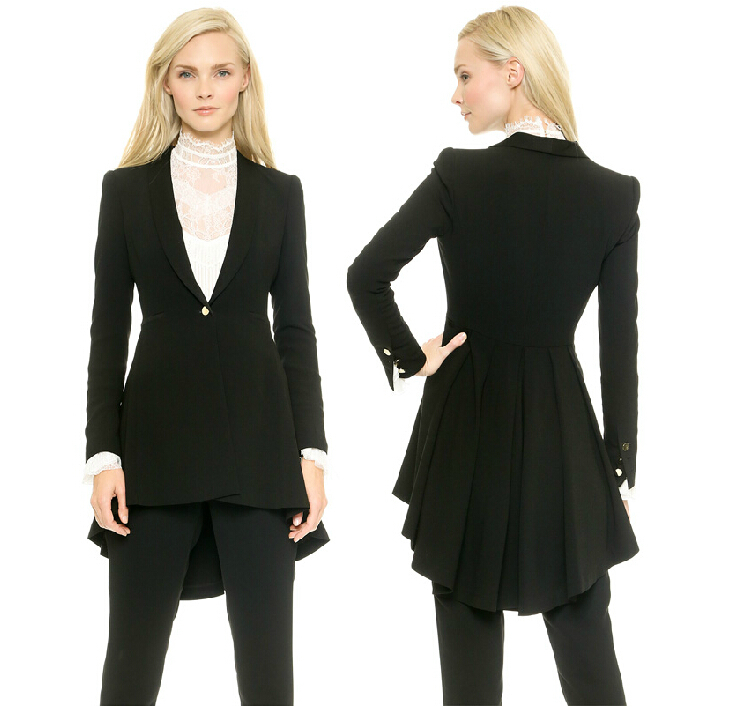 #4 Pockets
All women wish their apparel had more pockets! The right suit or tuxedo has 10 times as many pockets as most wedding dresses! Not only are you not corseted into a dress, but you can stash a flash, keep candy in your pockets, or use those storage spaces for anything else you can imagine.
#5 Turn Heads
Some women want to just do something different for the sake of doing something different, so give this a shot! Come try on a tuxedo and you'll fall in love.
#6 Low Cost
Wedding and bridesmaids' dresses are expensive! If you've ever been jealous of men for the cost of tuxedos as opposed to wedding and bridesmaids' dresses, now's your time to see how it feels!
Hire Female Tuxedos at Rose Tuxedo, Arizona
No matter your suit or tuxedo needs, Rose Tuxedo is here to help you look amazing for a fair and reasonable cost. We care about your happiness as a customer and our small business allows for us to cater to your every need. Tell your friends and come to try on some fantastic women's cut tuxedos! You can even try on some men's style suits and tuxedos if you so choose. You'll look great no matter what.
Get Professional assistance when renting a female tuxedo
Rose Tuxedo was aware the time had arrived for women to start a new tradition of choosing their attire for their wedding day. The staff will assist you and your partner to select the tuxedo that will be comfortable and feel special in the clothes you wear on that momentous occasion.
Where to rent a female tuxedo in Arizona
Rose Tuxedo is at your service in three convenient locations in Phoenix, Mesa, and Peoria, Arizona. You still have time to rent a tuxedo or suit ahead of the summer weddings you have to attend. Same-day tuxedo service is always available and no rush fee. Come into one of our 3 tux locations and see all the awesome designer tuxedos and suits we carry. Valentino Tuxedos, suit rentals, tuxedo rental Mesa Arizona and tux rental Glendale Arizona. Per the premier SEO and online marketing agency in Phoenix, Cohn Media, people searching for female tuxedos have doubled in the past year.
Rose Tuxedo's collection of women's suits and tuxedoes continues to grow. We will do the best we can with our huge designer tuxedo selection to help you create the look you want. And at a tux rental price that everyone can afford. Have a look at our huge tuxedo selection.
We'd be happy to help you find the right female tuxedos in Arizona; one that fits perfectly and make you absolutely gorgeous.