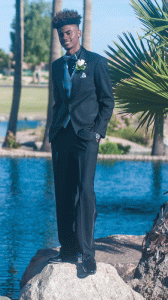 Why rose tuxedo is the go-to in the valley!
No matter the occasion here at Rose Tuxedo we can have you looking right and feeling great. With our endless stock of tuxedos in accessories is very easy to find what you like and look great. We have over 160 colors in many different styles. Allowing you to match anything that you'd prefer. With our various fabrics, vest, and ties we are always here to help you create your desired unique look. The other competitors only have about 80 to 90 colors available. This leaves you with a very limited wardrobe and can make things a lot more stressful than it should ever be for any special day!
The Cost
At Rose Tuxedos, we have tuxedo rentals starting at $79.99! When you go anywhere else something for that price is going to feel very cheap and uncomfortable. We offer the best deal possible feel free to give Angelo a call! He's always able to work with you and help you find what you need when it comes to your tuxedo 's. Not only are our packages the most affordable but we also have no hidden charges. Last-minute orders are always handled super professional here to help you ease the stress. Other competitors will have various hidden charges depending on things like time of year or a rush fee.
Laundry
Here at Rose Tuxedo , we have an amazing state of the art laundry and dry cleaning facility. Not only that but our cleaning system uses a non-toxic detergent that is not only safe for you but the environment. All of our garments are clean in biodegradable detergent that is nothing but environment-friendly. All of our inventory is also located in Arizona which helps eliminate shipping cost and also allows for last-minute changes with no stress!
Call us!
Here at Rose Tuxedo, we have been in business for over 25 years. Our highly trained and professional staff can always figure something out to help you remember this night forever! We take pride in making our guests look great and feel even better. If you need anything from prom rentals, suit rentals, tuxedo rentals , wedding tux rentals, and anything else you can think of give us a call and ask for Angelo. He's the best of the best! Call 602-375-8280 for the look and night you'll remember!