Watching the Honey Moon on Your Honeymoon
While many couples choose to spend their honeymoons in some secluded faraway location, there are many wonderful honeymoon destinations in Arizona. Staying close to home allows the couple to make the most of their honeymoon time. If this is the right option for you, then consider taking your tuxedo with you after the wedding for you may need it for a romantic night out.
Sedona, Arizona
If there is a full moon, then you may want to head to Sedona, Arizona. Head out into the rocks and cliffs shortly before midnight and the moon will appear especially large lending itself to a romantic evening just for the two of you. Close to the summer solstice, the moon may even appear to be a honey moon in color as the light bounces off dust particles in the earth's atmosphere. If you are looking for a great place to wear your tuxedo before you head out to the cliffs, then consider dining at L'Auberge Restaurant on Oak Creek that Conde Nash has named one of the top 10 restaurants in the Southwest. During the day, leave time to stroll through the beautiful Tiaquepaque Arts and Craft Village featuring handwork done by Native Americans.
Page, Arizona
Page, Arizona, sits nestled on the shore of Lake Powell making it a great place to watch the honey moon appear above the horizon. A dinner cruise on the lake is a great place to wear your tuxedo if you brought it along after your wedding. During the day, make sure to explore the Rainbow Bridge National Monument. The parabolic arch bridge spans 275 feet across Bridge Creek and is considered sacred by the Native Americans.
Bisbee, Arizona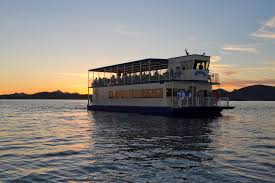 Couples going to Bisbee, Arizona, find themselves quickly whisked back to a bygone era. The restored Victorian era buildings lining the quaint streets are lined with art galleries, small cafes, and music studios that welcome you to visit them. The Bisbee Craft school is a great place to learn about a new craft or further explore an old one. Head to the top of the Mule Mountains for amazing views of the honey moon.
Rose Tuxedo in Phoenix, Arizona, welcomes you to rent your tuxedo from them. They understand that the time after a wedding can be very stressful, so they let you take your tuxedo on your honeymoon with you. That way, you can go out to eat, take pictures, or just about anything you want in your tuxedo. Just do not forget to return it after your honeymoon is over. Take a lot of pictures and enjoy, just let us know you want to take your wedding tuxedo on your honeymoon. No extra charge at Rose Tuxedo.
Rose Tuxedo's blog has a range of Wedding topics from Men's Tuxedo wear to Honeymoons, woman tuxedos. Follow us for the latest tuxedo styles and colors in the wedding industry. And when you need some wedding suits Rose Tuxedo has one in stock ready for you. We carry men's formal wear in every size from boy's to men's. www.rosetuxedoaz.com 602 957-0089