Robert Downey Jr.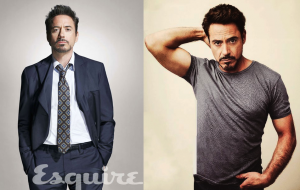 There's almost nothing that can make this man look bad. Even when he isn't Iron Man, he's still basically Tony Stark. Throw a suit on him and he could pass as a business professional, philanthropist, and lady killer. No suit and he still looks awesome, but he could just as easily be working out or working on someone's car. While his suit selection is sometimes wild and unusual, the classic black and white or blue and white will always be a classic. Even in a suit he lets his personality shine through and doesn't often take himself too seriously.
Usher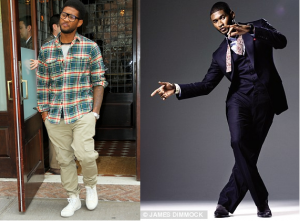 Here is another man that never looks bad. Some may say that Usher in a shirt and Usher in a suit are equally attractive, and most women would wholeheartedly agree. Not all of us look amazing shirtless, but most men do look great in a suit, and our friend Usher is proof of that. Jeans and a casual button-down shirt versus a suit shows a world of difference. The man can even look amazing with a bow-tie that hasn't been tied. Proof that men can look smooth and fresh even while dancing in their best suit.
Justin Timberlake and Jimmy Kimmel

We have a picture of both Timberlake and Jimmy Kimmel because lately, they seem to be an amazing pair. Between Timberlake's music career and Kimmel's talk show and comedy, they could continue to be a fantastic duo. These two men are handsome, funny, smart, and seem to be very down to earth guys who can laugh at themselves. Put them in street clothes and they could pass for old college buddies at a bar or reunion, but put them in suits and they look like a power house team that belongs on television. Maybe there's a reason Jimmy Kimmel is usually seen in suits. Justin Timberlake, like some other men we've talked about today, almost never looks bad but in a suit you can tell he is no longer the little guy in N*Sync but he's a grown man with grown stuff to do.
Ellen Degeneres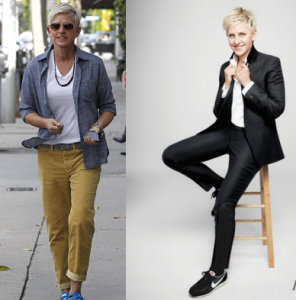 This funny lady is proof that anyone can pull off a suit, or at least some suit pieces. She's often seen wearing more of a men's style suit than the classic women's "pant suit," and it's become somewhat of a signature look for the comedian. On her show she often wears sweaters, sweater vests, jeans, or a suit vest but some could argue a full suit looks amazing on her. Even with a pair of sneakers on the look is flawless. Maybe it's the short hair and the thin body type, but Ellen is not the dress type, but she sure can turn heads when she gets dressed up for an award show or a photo shoot.
What we're trying to say here is: you may not be a celebrity, but even celebrities look better in suits (or at least suit pieces) so come by Rose Tuxedo for all of your suit rental and purchase needs to start looking like the movie star or musician you want to be!