Dressing for a black-tie event can be a pretty daunting task for anyone who has never had the experience in the past.
But if you're someone who is used to wearing a tuxedo, you can already start experimenting with other options compared to the simple black tuxedo-white shirt combination.
Just like its name suggests, you will need to wear a black tie along with your tuxedo.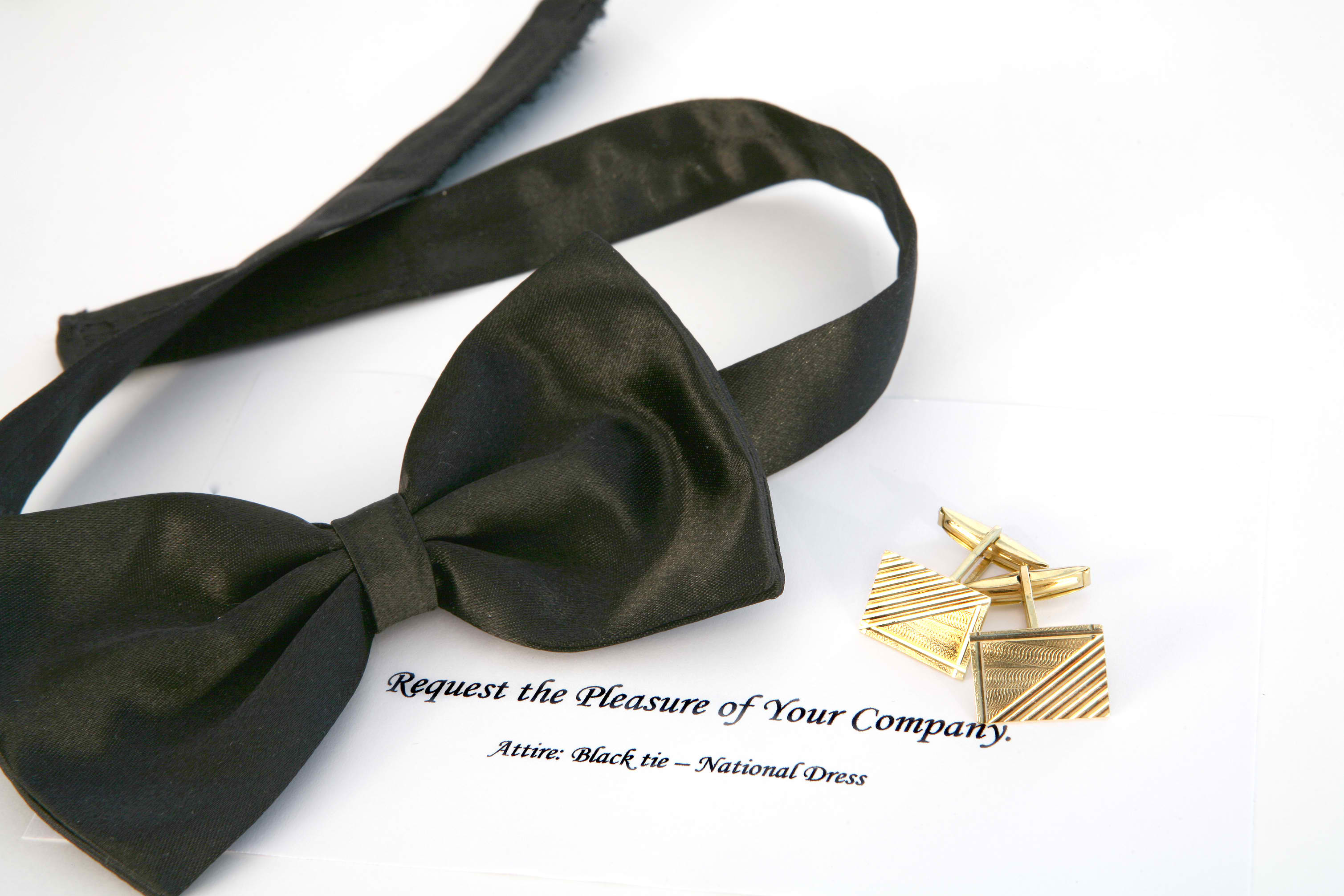 Here are some important things you have to remember about black tie events:
Black tie is not formal dress appropriate
Commonly, people assume that black-tie dressing is already the highest standard of dressing for men. In the past, however, black tie events consisted of very relaxed evening attire. Despite this common knowledge, the highest form of evening wear for men is a 'white tie' dress code.
In terms of dress code, black tie events call for semi-formal evening attire. On the other hand, a white tie refers to a similar yet distinct set of clothing for men.
Daytime wear is not black-tie and should never be worn!
Nowadays, there are a number of people who wear tuxedos during the daytime for a photo op or in tourist attractions. Sadly, they're doing wrong to the solemnity of tuxedos since these should only be for evening wear. The rule in wearing a tuxedo is that you dress for the end time of an event. If you will be attending a ceremony that calls for a tuxedo yet starts in the afternoon, think about the time that it will end. If it ends after dark, then it is appropriate to wear a tuxedo.
However, if you receive an invitation for a black-tie dress code for a morning wedding, be a good guest and don't contradict it.
When you're wearing a black-tie tuxedo, you are exuding an appeal that is worthy of the respect of other people. This is why you should treat your tuxedo with care at all times and follow the rules of black-tie dressing.
If you need to rent a tuxedo, make sure you check out our collection for one that you may wear. You'll find that this is a great way you can look dapper and sharp for the event you are attending.
If you need a tux rental in the 85029 area, Rose Tuxedo has one for you and if you need a suit rental near 85308 or 85306, we have one waiting for you.
Now, how about your haircut for this event?
Complementing Your Look With a Great Haircut
Looking your best is a delicate business. Standing out and making an excellent impression is some sort of art. A lot of thoughts and considerations have to go into making you appear as dapper as you could ever be.
That's why having experience and an observant eye is a valuable asset in the art of looking good.
Whether it is your wedding or prom, you always want to look your best. If not for anything but for the sake of standing out in group photos.
Most of us don't have the necessary experience to look dapper and dress sharp in a tuxedo or suit. After all, you could be a computer programmer. Where's all the time between developing an algorithm and debugging for you to sharpen your dressing skills and keep up with fashion trends?
That's why you have businesses like Rose tuxedos around to give you the advice you need to come out looking your best. And this is for free!
Men's tuxedo can transform your looks for the best
We are going to discuss something that's quite a source of dilemma on the big day: When should you have your haircut?
If you're a guy getting ready for prom or your wedding night, congratulations!
This is a giant moment in your life, and you certainly want to look your best. This is why you've probably already booked your groom's tux or prom tuxedo.
However, the one thing that you might be unsure about is when you should get your hair cut leading up to the big day.
Sure, you might have already asked your groomsman, but even he might not have a great answer for you. Here are some tips on how you should determine "when's the best time to get your hair cut before the big day" once you've already booked that prom or wedding tuxedo at Rose Tuxedo in Phoenix AZ or Mesa AZ.
1. Determine your cut type
Cuts for men, contrary to popular belief, are similar to cuts for women in the sense that no two are alike. You should consider this when planning for when to get your hair cut in relation to your big day. If you do a simple, short style, then you should get your hair cut a few days leading up to the time you put on that rose tuxedo. If you rock a longer, shaggier style, then get your hair cut about two weeks leading up to your prom or wedding night.
2. Check your schedule
Any guy who's going to prom or getting married is probably incredibly busy. In between getting fitted for your groom's tux or prom tuxedo and making all the necessary arrangements, you're probably extremely pressed for time. This is why you should find a haircut time that fits in with your busy schedule.
3. Determine how important your haircut is
While a groom might need to ensure, he gets his hair cut, a groomsman might not need to prioritize as much. If you are only a groomsman in your upcoming event, check with your stylist to determine whether you even really need a haircut in the weeks leading up to the big day.
You might need one; however, your stylist might tell you that you're good to go and don't need to do anything else beyond the final fitting for your wedding tuxedo .
No matter what your big day consists of, you surely want to look your best. If you follow the above tips, you're sure to look dapper on your big day. Whether you're going to prom or getting married, be sure to enjoy your special evening. Check out our other blog posts here and enjoy amazing tips to keep on top of the fashion game.
Local Formal Wear Shops: Rose Tuxedo Rental
Most of us have close friends who are spread across the country, or even across the globe. Your best friend from college may have moved to New York, and your brother is living in Colorado. They're your top choices for groomsmen tux, but what are you going to do about their tuxedos?
The big national chains want you to believe that they're your only choice. Just because they have branches all over the country, though, it doesn't make them your only—or your best—option!
Shopping with a local, family-owned company will give you better service, and having in-state stock means you can even have same-day delivery of tuxedos.
In many cases, other local formal wear shops will provide courtesy measurements. This means your groomsmen can stop by a local shop, wherever they are in the world, and that shop can send their measurements to us.
We all know that shopping locally is important and that you'll get more for your money when you do. If you're looking for the perfect tuxedos for your wedding, give us a call or come by one of our Arizona tuxedo shops to find out how we can help!