Since June is usually the unofficial end of the wedding season in the Phoenix metropolis, this is when summer begins in this area of the country, outdoor celebrations start to wane. Maybe that's why there are three, that's right, three bridal shows during the month of June .Maybe the wedding experts know that this is a good time to begin planning a beautiful, and cool, fall or winter wedding. You engaged ladies can look at these shows as a chance to get all your matrimonial eggs in one basket. If you bring a friend or two, or all your bridesmaids, you can count on having plenty of fun!  Here's a tip from the wedding planners' handbook.  Wear a one-piece bathing suit under your regular clothes to make trying on marked down wedding dresses much easier, and less revealing, if you know what we mean. (Here's the secret, most all Wedding Businesses will honor their bridal show special even if you didn't attend the show-shhhhhh! Just ask)
There will be nearly 4,000 square feet of showroom dedicated to wedding gowns.  Gowns will be selling for up to 50% , and brides can try on, purchase and take home right there on the spot.  And, get this…the first 400 brides who walk through the doors will receive free hors d'oeuvres and a rose.  And, as if that were not enough, there will be 150 vendors, fashion shows at 11:30 and 1:30, and an open bar which will be sure to keep all the 500 brides, bridesmaids, and 2,000 guests at the show entertained and happy.
Here are a few stats to keep for reference:
 Sheraton Phoenix Downtown Hotel, 340 N. Third St.
10:00 A.M. – 3:00 P.M., Sunday, June 8
$10 per person or $32 for groups of any size
Free entry for children 12 years-old or younger
480-874-4718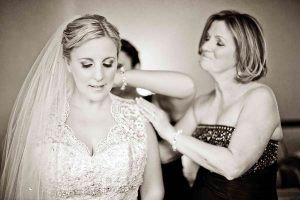 Arizona Bridal Show
This show bills itself as the largest bridal show in the country.  It boasts 500 vendors and 8,000 expected visitors.  There will be 1,500 gowns on sale, all of which will be marked down at least 30%, but may be discounted up to 80%.  There will be fashion shows at 9:00 and 11:00 A.M. and 1:00 and 3:00 P.M.  Every hour of the day a wedding gown will be given away to a lucky winner.  And door prizes will be given throughout the day, as well.
Here are the stats for this show:
Hours are 9:00 A.M. – 3:00 P.M.
Phoenix Convention Center
Washington and Third Streets
$12 entrance fee
480-860-6692
The show is much smaller than the other two, but it also has a different personality and a different purpose.  This show is jam-packed with information, tips, seminars, lessons, and how-to's.  If you want your wedding to be the event you have always dreamed of, this is the show for you.
At "break-out" sessions during the day you can learn about dancing, make-up, life after you are married, and everything you always wanted to know about putting on a wedding you will remember for a lifetime.
Here's the info for this show:
Registration begins at noon
Classes begin at 1:00 P.M.
Sunday, June 29
Scottsdale Resort and Conference Center
7700 E. McCormick Parkway
$10 entrance fee
$6 or $7  if purchased in advance
For more information, you can reach Arizona Reporter writer Kaila White by calling her at 602-444-4307 or email her at kaila.white@arizonarepublic.com
Bridal Expo
Bridal Show Near Me
Bridal Show New York
Bridal Show in PA
Upcoming Bridal Shows in Delaware
Bridal Expo New Orleans 2015
Bridal Show in California
Bridal Show Atlanta