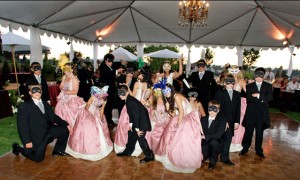 Quinceanera Season
Hey, Everybody, guess what?  Quinceanera Season is upon us!  You may need a few tips, and we have been through this many times, so we would love to give you a few.  Moms, daughters, and guys, here are some things you might need to know.
1.  One thing that is very helpful to your guests and you, is having several Tuxedo rental locations.  It definitely makes it easier for the guys who need to get measured and fitted for the Quince, to have one of the  tuxedo rental company's  locations nearby. Not only that, but, generally, many guys are invited to the celebration, and the guys live in all parts of the city.  Several locations makes it easy for the guys in each area to travel together, since one of the guys is going to live near a close location.
Quinceanera involves lots of guys who are going to need tuxedos.  Many of the guys are going to wear about the same size.  That means that your tuxedo rental company better have a big, really big, inventory.  In many cases, if four boys who were 15 years-old walked into a tuxedo specialist's shop, the owner would have to buy extra tuxedos in the fellow's size.  Or, in some cases, the owner might have to "sub" rent the tuxes from another shop, which, naturally is going to make the rental price higher.  If you use a tuxedo specialist who owns the tuxedos , your price is always going to be cheaper.
2.  Many Quinceaneras don't know our little secret.  If you keep it a secret, we'll tell you what it is.  Listen closely…for his marriage, a groom, if he has 5 or 6 groomsmen who are renting tuxedos at the same tuxedo shop, the groom gets his tuxedo rental FREE.
So, we were thinking…why shouldn't that be true when the guys are renting tuxes for a Quince?  What if the guys could get one or more tuxedo free for every 10 or 15 tuxedos that are rented by guys who will be attending the Quinceanera?  It's always O.K. to ask for free rentals.  If the shop says, "no", find another tuxedo rental company.
3.  If you want to look your absolute best, you need to think of the tuxedo styles and vest colors, two very important parts of the Quinceanera.  If you want your vest to match the girl's dress, you want to do business with a tuxedo rental company that is willing to help you make that happen.  We happen to have plenty of vests in lots of different colors.  We can get the color you need and, of course, in the size you need.  If a tuxedo shop has several locations, if one shop doesn't have what you need, that shop will call one of its other shops, because a shop with multiple locations has that many more vests…every size, every color.
4.  Negotiate, negotiate, negotiate!It is not just you who needs a tuxedo.  The girl is 15, she has 15 girl guests, and each of them is escorted by a guy. That's why they call it Quinceanera!  We have what is called "group discounts"!  A Quinceanera deserves a group discount.
Also, if you only want to wear a vest and tie, with nice shoes and no jacket, you should be able to pay less.  Here's why.  One of the things that makes renting a jacket cost more is that after each wear, the jacket needs to be dry cleaned.  No jacket, no cleaning, less work, less money. Not to mention that "no jacket" is much cooler, and it is kind of hot in the summer in Arizona.
So, Be cool, have fun, be safe, dance, and take plenty of pictures.  Hope we have been of assistance.
Quinceanera ball gowns
Quinceanera themes
Quinceanera invitations
Quinceanera dresses 2015
Quinceanera decorations
Quinceanera accessories
Quinceanera attire
Quinceanera albums
Quinceanera aqua dresses
Quinceanera and sweet 16