Your wedding day is special for you and your partner. It is one that you want to remember with joy. So, pictures and videos help you preserve the memory of this special day. But here is the problem. Cameras can make you nervous.
If you don't feel comfortable before a camera, you are not alone. However, you need to deal with it because the camera will focus primarily on you and your spouse on your wedding day. You wouldn't want to ruin those wedding pictures with you constantly turning your face away and avoiding the camera.
Here are some tips to overcome camera shyness at your wedding:
Get a Trustworthy Photographer
Hiring the right photographer for your wedding is a big deal. So, you need to get it right. It is important that you love the photographer's portfolio before you hire him.
The person should also be someone you are comfortable around. This is because you will have him at close range throughout your wedding. It is easier on your nerves if you are very comfortable around the photographer.
Before choosing a photographer, check the quality of their pictures from their website and social media pages. It will give you a feel for their work. You can also tell a lot about them from how they engage with people in the comment section.
Meet up either physically or virtually. It will give you an insight into the photographer's personality. You need to know that your photographer is authentic, human, and friendly. Establish trust and get friendly with the photographer before your wedding day. So, you wouldn't want your first encounter with your photographer to be the day of your wedding.
You and your partner can have a pre-wedding photo shoot with the photographer. It will help you become more comfortable with the person. When your photographer is taking a picture and advising you on your pose, it will feel you are chatting with a friend. This will help you relax and make you less conscious. 
Establish a Reasonable Distance with the Photographer
Will you be nervous that the photographer will be all up in your face clicking away on the camera? Then, you need to speak with him before the wedding. Let the photographer know you will be more comfortable if he takes the pictures from a reasonable distance.
This will make the picture-taking moments less awkward for you. It will also help you defeat camera shyness at your wedding.
Ask the Photographer for Help
Photographers are professionals at taking pictures of others. They have experience in photographing all kinds of people., including camera-shy people. So, they can share tips that will prep you up and make you more comfortable in front of a camera.
Be Mindful of the Goal
It is important to you that the photographer captures the beautiful moments of your wedding day. Otherwise, you won't be hiring a photographer. So, you need to remind yourself why the pictures are important to you.
Bearing this in mind will make you ensure you don't ruin them. Mentally prepare yourself to smile at the camera all day. Remember, that is what you need to do to have the perfect pictures of your dream wedding.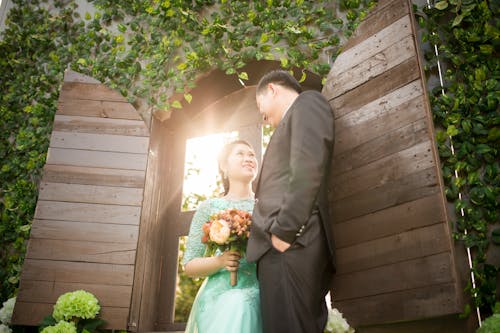 Pay More Attention to Your Partner
Taking your mind off the camera will help you relax. So, you need to focus on other things on your wedding day. It's your day and the other person of interest apart from you is your spouse. So, focus on him/or her.
Your spouse is the person you love and feel so comfortable around. Thus, paying more attention to him/her will take your mind off the camera. Also, it will make your wedding pictures so intimate. Your pictures will portray you paying so much attention to each other and being in love.
Speak with your partner while the cameras are clicking. Chit chats with your loved one will make you relax and smile. This is good for the pictures too. Ensure you are looking at each other during these chats.
Be Authentic in Your Poses
If you want your pictures to turn out well, you need to know how to pose for your wedding pictures. You don't have to copy poses you are not comfortable with. It will be worse for your nerves when you are presenting an unauthentic version of yourself.
You don't need to act like someone else. The fakeness will show in your pictures. Stick to your poses and let the photographer know that your opinion about this is very important. Also, tell the photographer ahead the posses you like.
Get Some Exclusive Shots Away from Your Guests
Arrange with your photographer to get a private photo session with your spouse on the day of the wedding. So, it will be you and your partner alone with the photographer. Being away from the crowd will help you relax and give birth to some fine pictures, too.
This is also like an insurance policy to ensure that you still get splendid pictures. Sometimes, camera shyness can ruin your pictures. So, it's heartbreaking to find out that there are no presentable pictures of you and your partner on your wedding day. A private photo session will prevent that from happening.
Remember to discuss this arrangement with your partner and photographer before the day. Also, accommodate the private photo session in the activity plan for the day. So, you need to have an activity to engage your guests while that is going on behind the scene.
Your Photographer Will Sort Through the Pictures
You need to know that all the pictures you take on your wedding day will not turn out perfectly. You will close your eyes in some while some will be unflattering because you moved as the shutter clicked. However, the good news is that the photographer will comb through the pictures and come up with only the one you look great in. So, even if the camera caught you at a bad time, that shouldn't bother you. Just take a deep breath and enjoy the photo session.
Invest in Your Look
Looking great can make you feel very confident and comfortable in front of a camera. So, ensure that you look your best for your day. Leave the details of your look to professional stylist and makeup stylists. When you like a million bucks, it becomes easier to step out and take on the cameras.
Looking great on your wedding day will not only boost your confidence. It will also make your pictures stunning. Let's hook you up with suits and tuxedos for you and your groom's men. Also, you will get the other accessories for your outfit.
We provide fashionable outfits for your special day. Contact us for your amazing tuxedos in Phoenix, Arizona.