If you are planning your wedding for 2018, it's helpful to know what colors are trending for bridal gowns and tuxedos. This year we are seeing a swing away from bright, hot colors and glamorous styles to more simple and soft pastels. There are wonderful shades of blue, purple, gray and pink all in light and subtle shades for spring.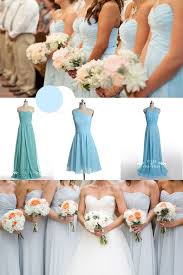 For summer there is a trend towards sweet colors and combinations such as tones of peach, blues, and dusty rose. For winter or autumn, good choices for this year are deep-dark oranges, plum, and pinks. Also, trending is a dark cranberry color for winter. The dark cranberry looks fabulous with black as your secondary color. Another great combination is charcoal gray with dusty purple and dark royal purple accents.
Tuxedo rentals & Color choices
There is such a great choice of tuxedo rentals and no matter what colors you choose you can do a standard black tuxedo or a dark gray and there are a wide variety of vests, cummerbund, and tie sets to match your bridesmaids and groomsmen. A really hot idea is to have all of your bridesmaids in a different color and shade of a similar style of gown and different color vests for each groomsman. It's so great to stand out individually.