Most little boys don't like wearing a suit or a tuxedo. Maybe it's because they feel it's bulky for their little frame and restless attitude. Even when they get older, it's also kind of difficult to convince them to dress up in a suit or tux. They always prefer to go about in their jeans and t-shirt. 
Every guy is different and so you will need to device different methods to make the dress up in a suit or tux. On occasions such as weddings, funerals, proms or any other formal event, it's important for a young man to appear sharp in a tuxedo.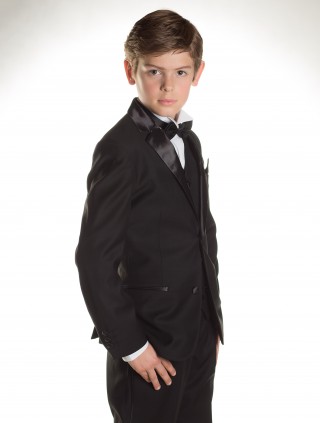 Today we'll talk about how to know when it's time for a new suit for your young man and how to avoid awkward stages and unpleasant surprises when it comes to sizing.
The proper fit: Check out Esquire's article on how to tell if a suit fits. If the suit is too tight or short in spots it may be time for a new one, but if it's too long or loose in spots a trip to the tailor may solve your problems.
Tailoring: If your young man is rapidly growing and you have several events for that year (or couple of years) at which he needs to dress up, talk to a tailor about leaving excess fabric to allow for letting clothing out. This could save money on slacks and jacket sleeves more so than shirts (you may want a different shirt for different events anyway). This is also great if you have multiple boys or access to a nice hand-me-down suit.
Rentals: Renting a suit or tuxedo is fantastic if you need something extra fancy for a wedding or Prom or if your man is in the middle of a growth spurt and you don't foresee purchasing a suit as a viable financial decision. Rentals are always a great decision, regardless of age or size of the man, but especially for those rare occasions your guy needs to look the best he can. Renting suits can also be a great way to find your style and learn your measurements.
Budgets: If you've purchased some all-purpose slacks and a button-down shirt that suffices for work, job interviews, dances, weddings (as a guest) and other events where "dressing up" is required then maybe the rare tuxedo rental will save money in the long run—especially if your sizing will change by the next time you need a tuxedo or suit.
Time: It you're an adult and can still fit in the suit in your closest but you haven't worn it in a decade, it may be time to retire that one and check out the newer styles, fabrics, and colors.
Comfort: If the man in your life doesn't like suits or tuxedos then maybe letting him walk into Rose Tuxedo and getting his measurements and checking out different styles until he finds something he likes. Let him explore with the help of professionals instead of his mom, grandma, wife, or girlfriend. Just like you don't want him in the dressing room when you're picking out a nice dress or a bathing suit there's a good chance he feels the same way about something that might make him uncomfortable.
No matter what you do or when your man needs new formal attire, be supportive and don't get pushy or angry. Bring him to Rose Tuxedo and we'll fulfill all his rental and purchasing needs for suits, tuxes, and more.