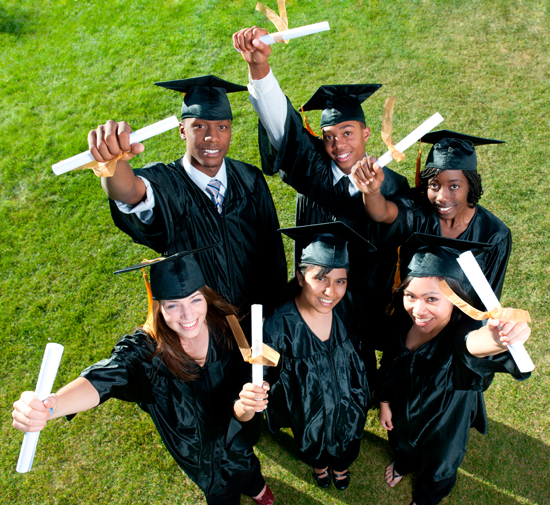 Graduation day is approaching for high school and colleges! While you will be wearing a graduation cap and gown, it's expected to wear something nice beneath it. Especially since the second you're off the stage and with your family after the ceremony you'll want to unzip that thing. Besides, those gowns are meant to show a little above your ankle, so unless you plan on not taking the thing off of unzipping it, you may want to consider a full suit, gentlemen.
Graduation day is the perfect day to bring the family around to see how awesome you are. It's not like a birthday or a random family gathering where everyone asks "what do you want to be when you grow up?" It's a day where they'll say how proud they are of you for graduating. Granted, for high school graduations you'll be asked a hundred times where you're going to college and what for, but you should have already made some sort of decision in regards to that already. So, soak up the sun and glory on your graduation day and dress like the classy individual you are.
A full suit may be a bit much for outdoor graduations, but slacks and a nice shirt and tie are probably going to be expected of you. For college graduations (especially Masters and Doctorates) it may be wise to suck up the heat and put on the suit jacket as well. Or at least have it close by for after-graduation celebrations.
Don't skimp on the suit and go with something you bought at a thrift store just because "no one will see it unless I unzip my robe," or "who cares?" You'll look and feel amazing in your rented suit from Rose Tuxedo. Graduation is a big deal. You spent years of your life preparing for this moment (and in some cases, thousands and thousands of dollars in student loans) so why not spend a little bit of money for a nice suit for those pictures? Look your best when you're getting your degree. You'll thank us later when you see the pictures—even the ones with your graduation cap and fully-zipped gown. You'd be shocked at how different you walk when you're the only one who knows you have a suit on underneath.
Don't wear jeans to your graduation, dress the best you can when you're shaking the hands of professors and administrators at the education establishment you've spent a good chunk of your time at.
High School, Community College, University, or Tech school graduations are all something to be proud of so help the smart man in your life look his best when he holds up that diploma (or placeholder as many schools are wont to do) on a day he'll remember forever.
Quick, start working on those college entrance essays or your resume, you'll have graduated before you know it!