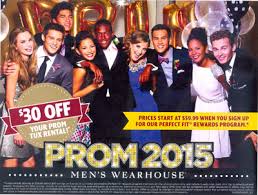 Sometimes the hardest part about getting ready for prom is acquiring a date. If you're a lucky fella with a lovely girlfriend who you'll still stand by in May or June you've got it easy. But for those unlucky guys without a guaranteed date it can be tough to get (and keep) a prom date.
Don't wait until the week or prom to start asking girls—many of them will already have a date or assume they were your last choice—so start deciding and asking once the date has been announced (or a month in advance, at least).
Look the part when you ask her: Put on your best pair of jeans and a nice sweater or shirt—don't ask her when you've just gotten out of gym and are still wearing your gross PE trainers. This isn't a wedding proposal, but you can still make it special. Prom is a big deal to young girls.
Let her pick the color: Find out ASAP what color her dress will be so you can find a way to match. It may sound dumb because you don't see a problem with wearing a classic black and white tux outfit, but matching may be important to her. It's a nice way to tell people you came together as part of a plan, not that you just met up at the dance and happened to be dancing together or hanging out. You can go simple with a matching tie or pocket square, or bolder with a matching jacket, cummerbund, or shirt. Rose Tuxedo offers all of the popular colors found in prom dresses in various pieces of suits and tuxedos.
Be on time: Do not pick her up late. This is Prom suicide. She'll be angry with you the entire time. Show up early. It shows you're excited.
Pick somewhere nice for dinner: You'll be in a suit or a tuxedo so don't try to pass off McDonalds as a fancy meal. This isn't to say you need to go to a 5 star Italian restaurant, but at least spring for a decent chain restaurant.
Don't be afraid to ask her to go dutch: If you and your date aren't a couple, it wouldn't hurt to ask if she'd be willing to pitch in for the limousine (or town car) or dinner. You pay for your outfit, she pays for hers, so it's only fair that you both pay for everything else together.
Have fun: No matter who you go with or where you go beforehand, have fun at prom. Be safe, make sane decisions, but have fun. Dance with your friends, don't get jealous if someone else wants to dance with your date (it's just a dance, after all) and don't feel as if you must spend the entire evening just with your date. It's your night too and you both have friends outside of each other. Make this a night to remember and look amazing while you're at it with a little help from Rose Tuxedo.