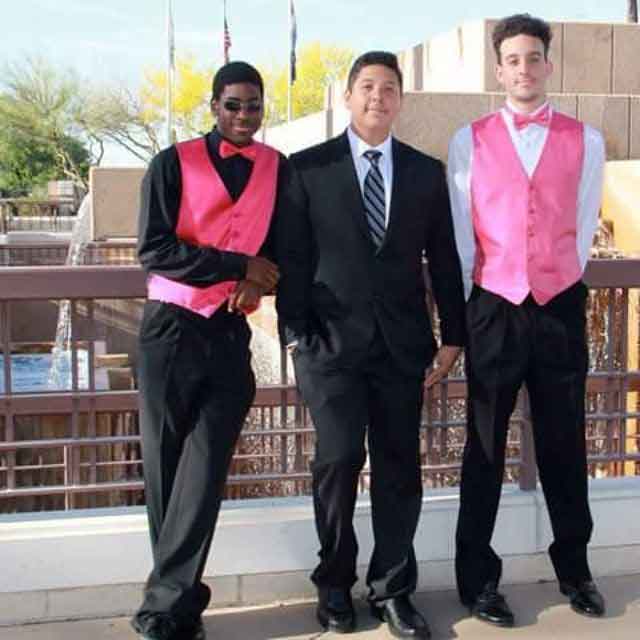 We are 6 days away from Halloween. Chances are, you have some Halloween parties to attend this week, so we've got even more Halloween costume ideas in which we could help you out!
Prom couple: We carry suits and tuxedos that are perfect for Prom or other dances, so you can rent yourself a tuxedo in some vibrant and crazy colors to match a prom style dress of your date or partner. Reminisce your high school days.
Presidential Debates: We've had a few presidential debates going on this month, so gather some friends and rent some suits and go as a group and have mock debates all night. Bonus points if you get someone to dress up as Secret Service agents!
Christian Grey: With the popularity of that book series and the movie over the past few years, get yourself a classy grey suit and adopt an air of success and sophistication.
Butler: We all love Batman, right? Why not accompany a friend dressed as Batman as his trusty Butler, Alfred.
Hipsters and Nerds: Rent out mis-matched pieces of a three-piece suit (especially different colors and textures) combined with some casual shoes and be a quintessential hipster. Take some slacks from a more casual suit and add some suspenders and a bow tie plus a button-down shirt and some glasses for a classic "Nerd" outfit.
FBI Agent: Like the Secret Service agent idea we threw out a while back, toss on a classic black suit and talk into your watch all night and you can cause some amusing looks from your friends and family.
Talk Show host: From Regis to Drew Carey and Bob Barker, the best game show hosts wear nice dark suits . Make a long skinny microphone, buy a toy one, or anything in between and you have the perfect costume. Bonus points if you can find your lovely assistant and give her a cute sequin dress.
Awards Shows and the Red Carpet: Roll out a red carpet down a hall and gather some friends in evening wear and act out an awards show.
Detective: Take a couple pieces of a suit and get a plastic police badge and maybe a fake cigar. Go classic 50s detective or amp it up and aim for a more modern look with slim suits and new fashions.
Miami Vice: We carry a wide arrangement of colors of suits, so get one a size or two too large in a pastel color, gel your hair, and throw on some sun glasses for a look that will stand out.
Have a fun and safe Halloween, everyone. We would love to help you put together the best Halloween costume out of all of your friends, neighbors, and coworkers!