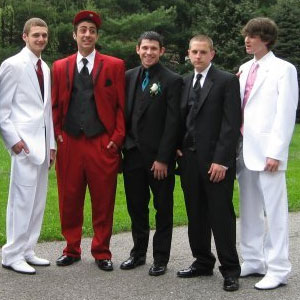 Spring is beginning to bloom along the Sun Belt and with high school proms coming up, the big question is ,"How much are tux rentals?"  The answer to that question depends on which tux rental establishment you are planning to use.  If you're going to one of the big chain stores, the rental for a tux is going to be about $40 more than what you are going to pay at Rose Tuxedo of Phoenix.  Rose Tuxedo is a hometown institution where prom tuxedos are concerned.  They know all about prom tuxedo rental time, and they know how to get you looking sharp, cool, and like a real player should look.
They have three locations, so wherever you live in the Greater Phoenix Area, you've got a Rose Tuxedo nearby.  Get your crew together and come in one car to save some cash for the "big night".
So, let's get down to business,  you want to know how much it costs to rent a tuxedo. You will pay $99.95 for your Classic Collection tuxedo rental.  For a little flair, you can choose from the Premium Collection for $145.00. Because they are a family business and because they have so many choices, they can fit just about any budget from $59.95 to $149.95. You can return your tuxedo at any of their three locations.  Plus, they have several styles to choose from.
The really neat thing about a high school prom is that, in most cases, you can choose a style that fits your personality.  They have a formal outfit for just about every type of taste.  They have Western Tuxedos, colored tuxedos, white tuxedos, gray tuxedos, tuxedos with vests, tuxedos with no vest, and tuxedos with colored vests. They have black dress suits, colored suits, white suits and gray suits.  They have colored ties, black ties, white ties, or bow ties in many colors, and they even have your shoes.  Of course, some guys want to show their personalities with a surprising choice of shoe, but if you want to go more traditional, they can fit you.  They have a large enough inventory to make sure the suit or tuxedo you need fits perfectly for the prom.
Here's a tip.  If you go to their Pinterest (ask your girlfriend) page, you can see a gallery of the many styles and choices they can offer you.  That means, when you come to one of their stores to rent your suit or prom tuxedo, you will have some idea of what type of attire you are going to choose for the big night. Rose Tuxedo Phoenix AZ and Rose Tuxedo Mesa Arizona have very transparent tux rental cost, stop by one of our locations and see how easy it is.
So, here are your instructions again:
1. Get a date for the prom.
2.  Get her to show you what Pinterest is.
3.  Look at the gallery on Pinterest and make a preliminary choice for your suit or tux.
4.  Decide what kind of shoes you are going to wear.
5.  A few days before prom night, come into the store to fit your choice of suit or tux and your shoes.
6.  Have a great time at the prom.
7.  Bring your tux back to any of their locations the next day.
Got it?
Men's Tuxedo Rental
Tuxedo Rental Deals
Groomsmen Tuxedo Rental
Tuxedo Rental for Wedding
Tuxedo Rental Miami
Tuxedo Rental NJ
Cheap Tuxedo Rental
Tuxedo Rental Prices
Tuxedo Rental Cost
Tuxedo Rental Near Me
Tuxedo Rental Deals
Tuxedo Rental for Prom
Tuxedo Rental Little rRock
Tuxedo Rental Online
Tuxedo Rental Options
Tuxedo Rental Places
Tuxedo Rental Phoenix
Tuxedo Rental Rates