Many people who wear suits don't really know how to wear their suits . Especially during the fall seasons. Let's make you not be "many people". Nothing will make you look sharp, elegant, and powerful like wearing a suit. So, why not wear it well? You may wonder, is there a right and a wrong way to wear a suit? Well, yeah. 
We've put down some rules to guide you this fall season. You don't have to make the mistakes people make when wearing a suit anymore. Especially during the autumn season. 
Let's unpack!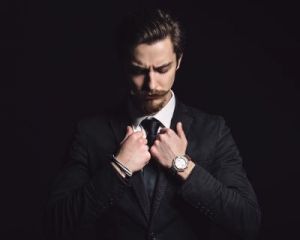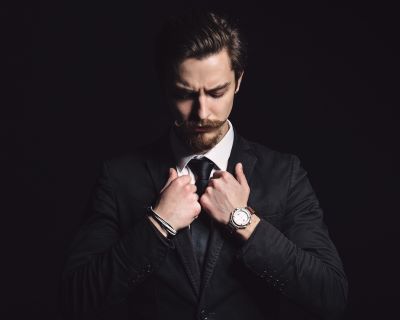 6 Suit Mistakes Men Make You Shouldn't 
1. Wearing a smartwatch
Wearing a smartwatch with your suit will make you look sporty, not elegant. You should rather wear a non-sporty metal wristwatch. This will bring out the classy and timeless look of your suit.
2. Not removing the tags and stitches
Many men wear their suits without removing the markers. Perhaps they are scared of ruining the suit. But the tags are meant to be removed. You can play safe by using a scissor to do that.
3. Wearing numerous accessories 
When you wear a suit, you are going for a majestic, timeless look. Wearing numerous rings, necklaces, or bracelets will work against your plan. You can wear accessories but keep it moderate.
4. Getting a trendy suit
Getting a suit just because it is trending? Probably because you saw it at the Oscars worn by a celebrity. Here's our advice, you really shouldn't do that. There's no assurance that the suit will keep trending by next year. If you want to spend on a suit, get the classic first. Black, gray, and even navy blue can do the trick.
5. You may wear shirts and ties
You can add different styles like using a turtleneck, which is very comfortable and makes you feel elegant.
6. Not getting your suit tailored
You shouldn't just get your suit from any suit store. Especially in the fall seasons. If you get your suit from a random store, it won't fit you 100% because the suits are mass-produced. And even people with similar body structures still have differences. 
How To wear a suit in fall 
Here's a helpful digression: 
Before you get a suit in the fall, there are two things to consider. Here they are: 
The Super Number

The GSM number (grams per square meter)
We measure the weight of fabric in ounces or GSM (grams per square meter). A lightweight fabric would be from 180GSM to 230GSM. It includes linen, silk & cotton. Heavyweight is anything higher than 300GSM. This is like thick wool. A suit suitable for the fall season would have a lower super number of 110 or less and a higher GSM of 280 or higher.
Now let's get started on how to wear a suit in the fall. 
1. Wear a waistcoat for added warmth
An ideal two-piece suit comprises trousers with a matching jacket or fleece. The two-piece suits are the most commonly used. The three-piece suit is a feasible volition for fall. 
The three-piece suit is similar to the two-piece suit counterparts. It comprises trousers with a matching jacket or coat. It also includes a vest which is known as a waistcoat. 
A vest is a sleeveless piece of clothing with buttons which people usually wear over a shirt & necktie but under their jacket or coat. 
Men usually choose to wear a vest for added fashion or trend. While some for added warmth. 
If you live in places where it gets cold during the fall, wearing a vest with your suit will give you an extra cozy feel.
2. Use neutral or dark color suits
As the weather changes during the fall season, the environment changes, trees and grass turn vibrant colors. It's best to wear neutral or dark suits.
On the other hand, neutral and dark colors look perfect when worn during the fall season. You can still experiment with light-colored suits, but you'll find out that neutral and dark colors make you look loftier during this period. Stylish of all, they match with a variety of multicolored accessories.
3. Don't wear linen suits
You need to avoid wearing linen suits during the fall. They are perfect for spring and winter but the fall, nope. Linen suits are thin and permeable. It can't keep the cold away. If you own one you should be familiar with the feeling. 
The linen fabric is significantly lighter and thinner than cotton, making it ideal for use during the warm-weather months. During the cool fall season, you discover linen suits don't offer adequate protection from cold and other elements. The lightweight features of a linen suit can't keep you warm. 
4. The weekend wedding
Weddings are more common during the fall. At the nuptials, you surely want to look elegant. Or even the most dressed. A good suit will do the magic.
Want to be outstanding? Then look different. Ditch your regular blacks and other white or bright-colored suits. You can wear neutrals. A smoldering gray paired with an appropriate button-down sleeve is a good call. These give an autumnal look that's hard to beat without drawing too much attention from the special day's proceedings.
5. All-Day Meetings
Work resumes on Monday. Your office is still calling for suits. The opportunity to pull off some executive-level moves in the suiting department comes again. Rather than the usual navy two-piece, old office stalwart, and traditional white-collar uniform, you can go for something different. 
Try this out: a gray color suit, exposing your sleeve cuff by half an inch. Your socks should be long enough, not leaving any part of your legs exposed. You need to be creative with your suit. But don't go overboard.
6. Suit Up for Date Night
Let's be real here, that boring jeans & tee shirt won't impress your date. Whether you are connecting with her for the first time or just another Friday night out. Put on a suit. And remember, don't be boring with your suit. Spice things up. 
Get Suits From the Experts
For your weddings, dates, meetings, and all kinds of events, get a well-customized suit from experts. You'll surely get the best advice from experts.
Here in Phoenix, Rose Tuxedo offers the best suits. You can get tailored suits that fit your weddings, parties & other events from us at a very affordable price. Here, you get your suit the same day you order it. We work seven days a week to serve you better. Reach out to us.