New Years Eve Tuxedo Rental: How To Begin the New Year Looking Fabulous
New Year's Eve is one of the most anticipated nights of the year. It is when we say goodbye to the old and usher in the new. Some of you might be wondering what to do that night, while the rest of you may have received an invite to a fancy dress party. What better way to ring in the New Year than with hanging with friends at a fancy dress party. You are going to need the perfect attire, which starts with the right tuxedo.
How do I look fabulous on the night of all nights?
I have a few suggestions which begin with the perfect New Years Eve tuxedo rental.
1) You need to find the right lapel for your suit. There are three types, including the notch lapel. The notch lapel is for a professional setting, like work or something of that nature. The other two can be worn for parties that are more formal in nature. You better learn how to wear a lapel. That is if you want to be invited back to that a-list party again next year. You are going to look out of place arriving with a lapel that looks haphazard. You will be the talk of the party and not in a good way.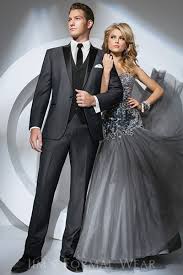 2) Nothing is more classic and modern as the black and white tuxedo combo. Wait! You can work colors into the design, but it needs to be done tastefully. Bright colors are great, but keep the colors to a minimum. You are not going to the prom. You cannot use this even as a do-over for an event that you did not get invited to when you were 17. You need to dress sophisticated. Do you really want to become part of the gossip mill? You need to make a great first impression, especially if you want to be invited back.
3) You are allowed to strut your stuff in a tux. Bold colors and textures are a great choice, but again, keep everything to a minimum. I saw this think on the Hallmark Channel today wear their style guy was talking about a purple velvet jacket for women and men. Velvet works well over the holidays, as does suede.
4) Some of you might be used to wearing a belt. I do not suggest wearing a belt with a tux. Most tuxedos are worn with suspenders. Do yourself a favor and leave the belt at home.
Visit www.rosetuxedoaz.com for more information or give us a call today on options and pricing.