Men's Suits and Tuxedo for Weddings
It's wedding season. Do you have your summer Wedding suit picked out? There's nothing quite like finding the perfect summer wedding tuxedo for the groom and his groom's men. Well, what's hot?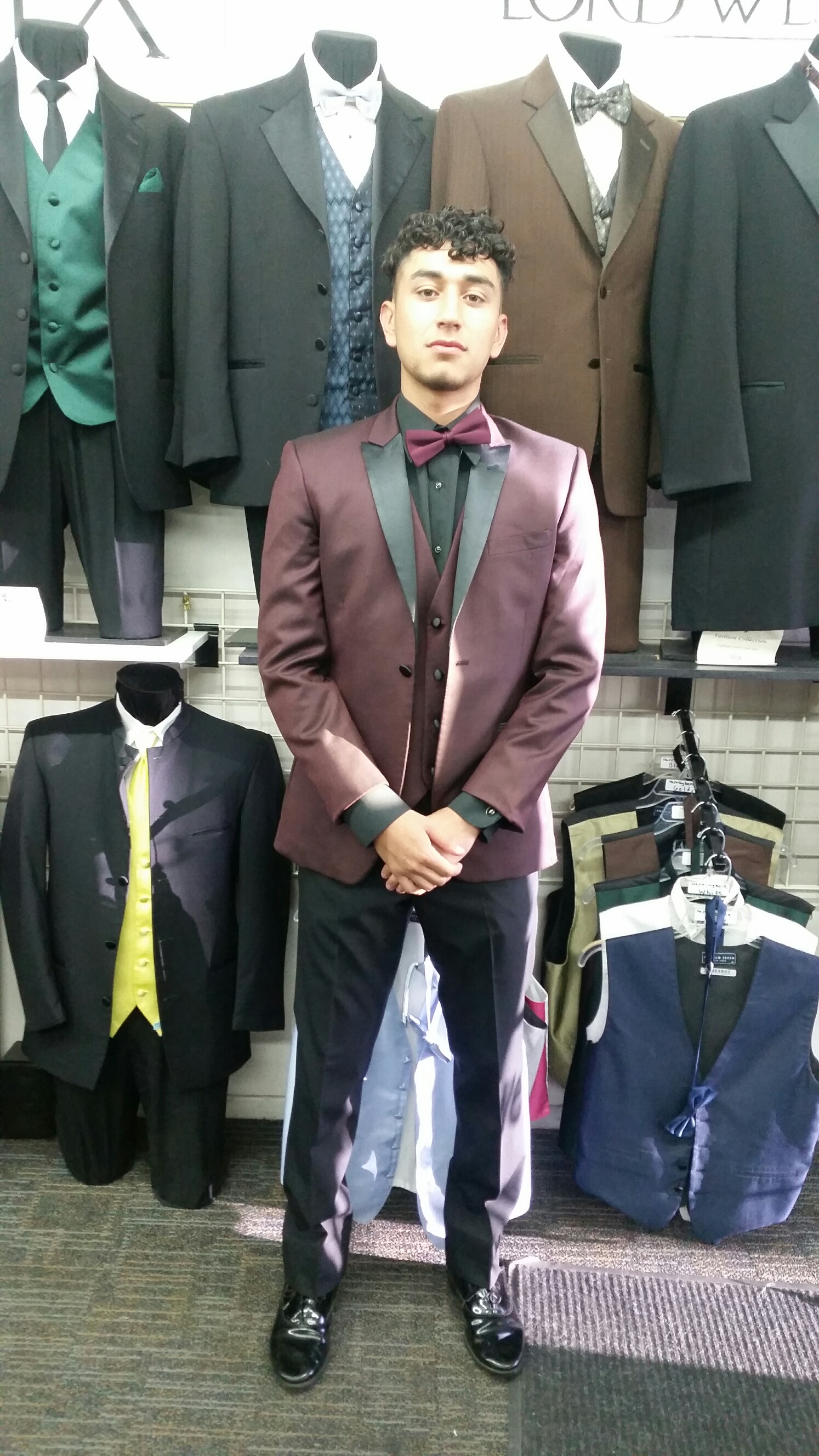 Slim Fit Tuxedo and Suit's
A slim fit tuxedo seems to be a must-have if your in shape and can rock the look, it's not for every-body. Whether you're headed to a formal event or a black-tie dinner, or a Wedding, Rose Tuxedo in Phoenix AZ has plenty of choices and so do other Tuxedo Specialist. Clothing comes in a variety of styles and fits, and every gentleman has his own preference as to which looks best on him (and what others think looks best on him, he may want slim but slim may not want him). It's important to know what you're shopping for, between tailored fit, regular fit, regal fit, and slim fit. A tuxedo specialist can help you with this, it's all they do. So stop in a local tux shop and find your look. You can also research pictures on line line Pinterest and find helpful ideas.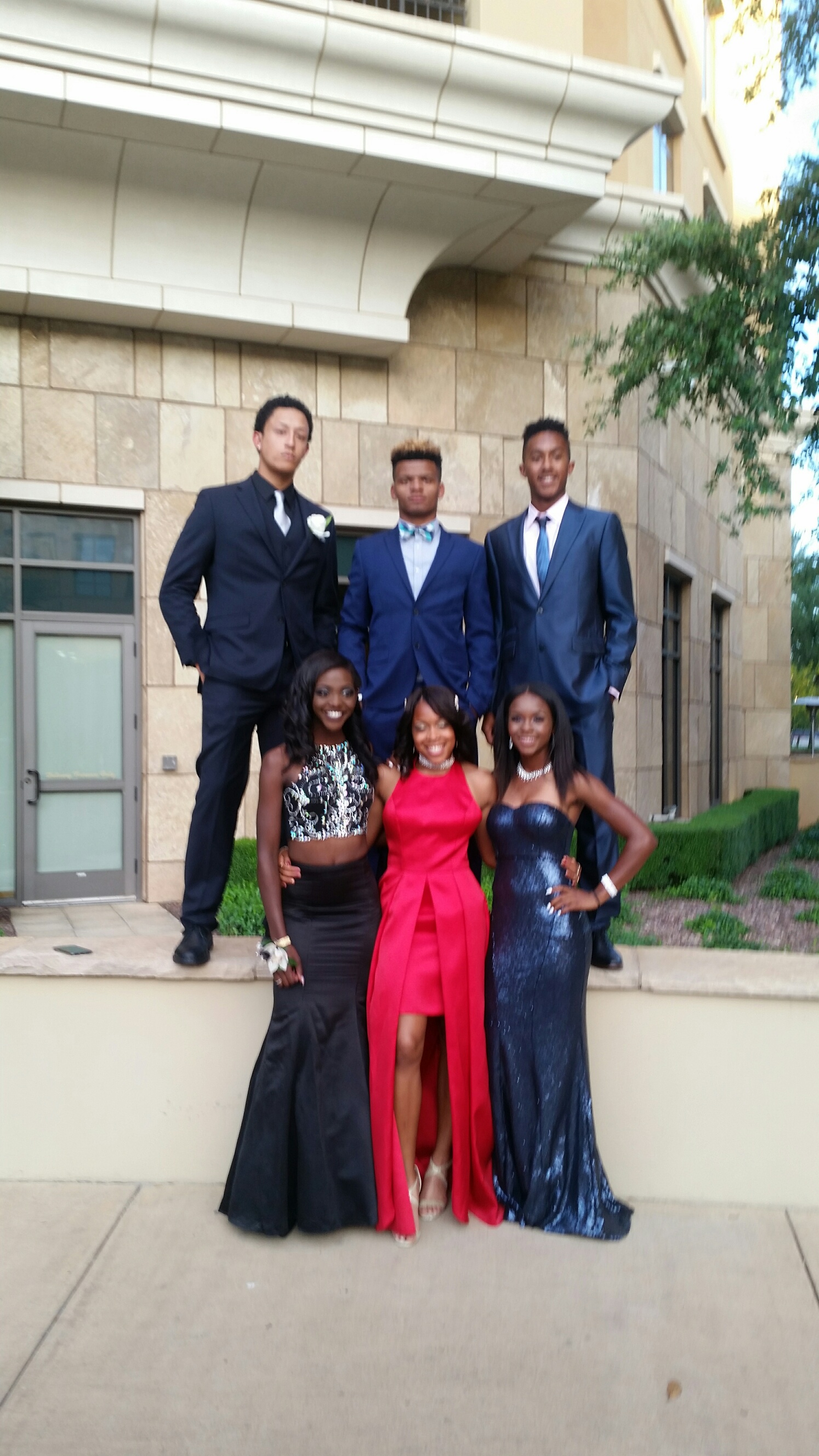 Summer Suit Fabrics
Finding the right fabric for the right season is always in style. What makes a summer suit fabric crucial for the season, is the weight and breathability. These days, more suit makers than ever are crafting half-lined or unlined blazers out of lightweight, open-weave fabrics. Wearing cotton all summer when wool-silk-linen blends actually breathe just as good is always an option. But stay away from Polyester all year round because they don't last and they are cheap looking and most people can tell. A summer Arizona Wedding is going to be hot!! No matter if it's inside all day just getting in and out of your car you will know. Once again a Tuxedo Specialist will help you and know the difference.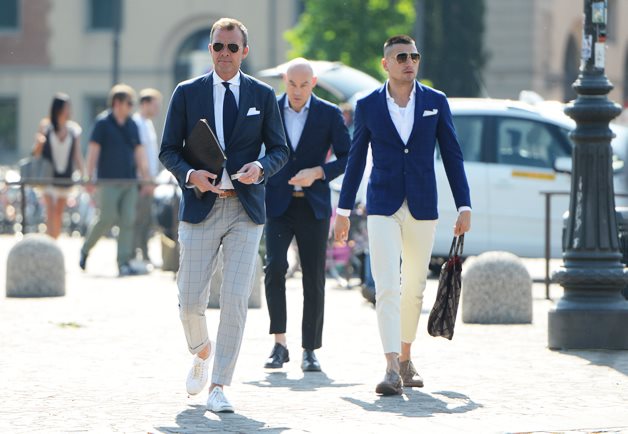 Discount Men's formal Wear
Why not?? Sure this is popular, everyone wants to save a few dollars these days and get the same quality service and products and the Men's formal wear is no different. Shopping designer clothing from the assortment of Men's formal is easy during the summer months. Most Tuxedo rental shops run specials all year long and all you have to do is ask them. They will even create a discount if you have a large wedding party sometimes. If you don't ask you will never know. Here is an insider trick-tell them you saw them at the last Bridal show or a year or two ago and don't have your discount flyer anymore and see what they can do. Shhhh.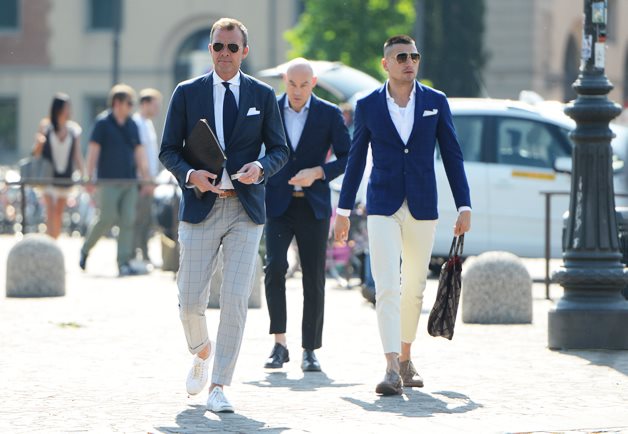 Flat front Pants
Most slim fit pants will always have a flat-front design and tight through the legs and taper slightly towards the bottom, ending in a smaller leg opening. The pants should be snug, about ½ inch of fabric when pinched between your fingers, but you should be able to move, dance and sit with no problems. They should sit comfortably at your waist and you should be able to fasten them without holding your breath or sucking in. Belts should be worn or suspenders but not to hold your pants up. I'm still a pleated pleat guy but I come from an older generations. They will be back but right now they are out.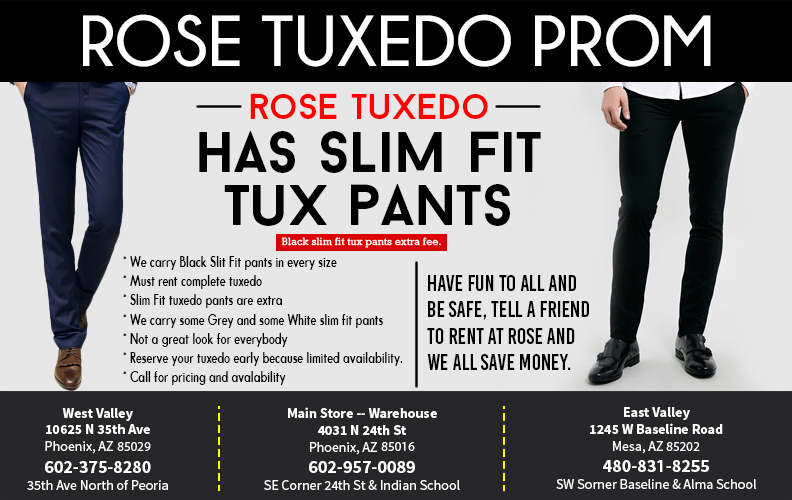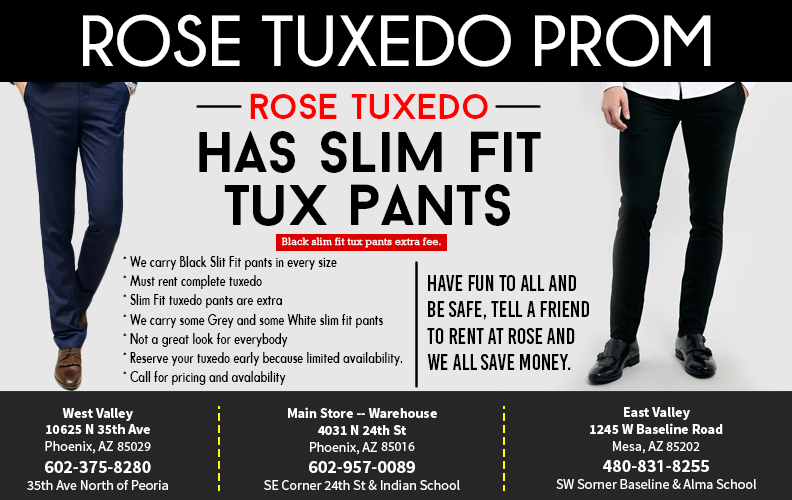 Shopping local
When it comes to buying or renting clothing you want to be able to touch it and try it on before buying or renting it. Most places have tailoring available in house or can recommend a place. If you order online you don't save anytime trying it on and you still have to spend time searching online and ordering it. So why not get out and save money on shipping a box with a tuxedo in it. Plus there is so much theft going on in neighborhoods you may never know if your package arrived. Stay tune for more Men's formal Wear blogs on Tuxedo and suit trends, styles, fits and more. Rose Tuxedo has all the latest Tuxedo rentals and suit rentals for any occasion. Coming next, Tuxedo Jacket colors. 602 375-8280