Tuxedo and Suit Styles
With so many formal events approaching with summer weddings to proms, there are a number of reasons why it's important to stay current on the latest tuxedo and suit styles to look fashionable and trendy at either a wedding or prom. For men, it can be easy to blend in and allow the girls to stand out, but by choosing the right look it will ensure that you look sharp and cutting-edge.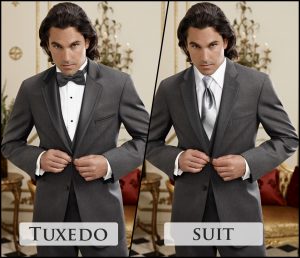 Instead of wearing classic black tuxedos that are standard at most events, gray tuxedos are the latest style for 2014 and offer a refreshing look that stands out for both personal and professional attire. Grey tuxedo's also work well with different skin tones and can paired with most vest or tie colors for a look that is both striking and subtle. The gray suit is also a clothing item that can be worn for a lifetime as it's a style that can be seen in prior decades, even in films shot in the 1920s.
To complete any suit, add a poppy tie and a fresh poppy square for a look that offers a few accessories without appearing too flashy. Double-breasted suits are also currently trending for the coming year and will provide a slimming silhouette when properly fitted.For those who want a classic tux or suit that doesn't appear too flashy, blue
tuxedo and suit
are another popular item to rent for men who want a sophisticated style when attending prom or a wedding. White
tuxedo
's are also in style for 2014 and will look high-end and masculine for both the groom and
groomsmen
. Pair it with a black bow tie or polka-dot tie for added detail that is trendy and anything but conventional.For Arizona
wedding tuxedo
's, young men can rent tux's that have striking lines on the jacket with a chambray button-up underneath, all paired with a bow tie. It will truly stand out and still offer added comfort for events where a standard tux may appear too formal. A checkered button-up can also be worn underneath the jacket for a trendy style that is still classy.
For Arizona weddings, a button-up vest with a tucked-in tie will offer a masculine look that can be used for an outdoor event. Renting a tux or suit with large lapels is an additional trend for men's formal wear in the coming year for a spin on classic looks that doesn't appear too loud. This look has currently been seen at a handful of award shows by celebs who want to appear classy without inappropriate.Men's formal attire has been used for several decades, but has relaxed and become less conventional in the West. Bowler hats have now replaced top hats that were seen in the early 1900s, and men often prefer to attend
black tie
events sans a cane. Although the styles and trends have certainly evolved, the staple suit and tux with sharp lines and a vest continues to rein in popularity.