Just like any other type of fashion and party, Quinceañeras have trends! Today we're going to talk about some of the things to expect when attending these parties for the trendy and fashionable young ladies who are looking to keep up with trends and what's popular.
Metal and Rock: Sometimes described as a body armor style, some Quince dresses are showing up with large metal chains and a vaguely armored looking bodice top.
Boys: If you're in her party, you'll be told what to wear, and the men's suits may resemble the military uniforms if this matches her theme.
Draped Shoulders: Late last year, this started popping up but it's in full swing for this year. Draped shoulders with beading bring in a sense of modernity to the more traditional style of quince dresses.
Boys: You may be expected to wear a suit or ensemble that has a traditional feel but with a small accessory that brings it into a more modern time.
Covered Shoulders: The modesty sleeves that were popular in the 1990's is coming back with a twist. Sheer capped sleeves are becoming popular because it's mixing the traditional look with just a small tweak—a nod to the old with a modern twist.
Boys: Expect a traditional suit with a small change—possibly in the shoes, shirt, or tie.
Common Themes:
Princess: Most Quince girls want to be a princess, and their quinceañera is the perfect time to make that dream come true! If a girl chooses this, expect a lot of formal wear, pink or blue clothing, very specific dances, and a lot of emphasis on tradition.
Mardi Gras or Masquerade: This is a great theme for those wanting a lot of color and excitement! Masquerade masks and beads may be given to guests and the entire event will be a lot of fun.
Butterfly: This is a timeless theme, often incorporating live butterflies!
Under the Sea: Think about mermaids, fish netting, seaweed, and more. This may be inspired by the Disney classic "the Little Mermaid," because who doesn't want to be Ariel? Boys may be asked to wear blues and greens instead of the classic black and white suit.
Old Hollywood: Bring in polaroid's, photo booths, a rat-pack theme, red lipstick, and everything that Old Hollywood represents. Zoot Suits may be required for the young men to wear.
Diamonds: They say diamonds are a girl's best friend, and girls love sparkly diamonds, so this is a popular theme, featuring diamonds, crystals, or cubic zirconia accessories and more. A classic suit or tuxedo will probably be worn by the boys in her court.
Candy: Much like the Mardi Gras theme, this will feature a lot of color but probably a lot of sweets.
Faerie: Light colors, flowers, romance, wildlife, and more will be present. The attire required of the men in her court may be simpler and less like a classic suit.
Carnival: Much like the candy idea, this one focuses on fun and youth. Picture a fair or a carnival and that's the atmosphere this type of party will emit.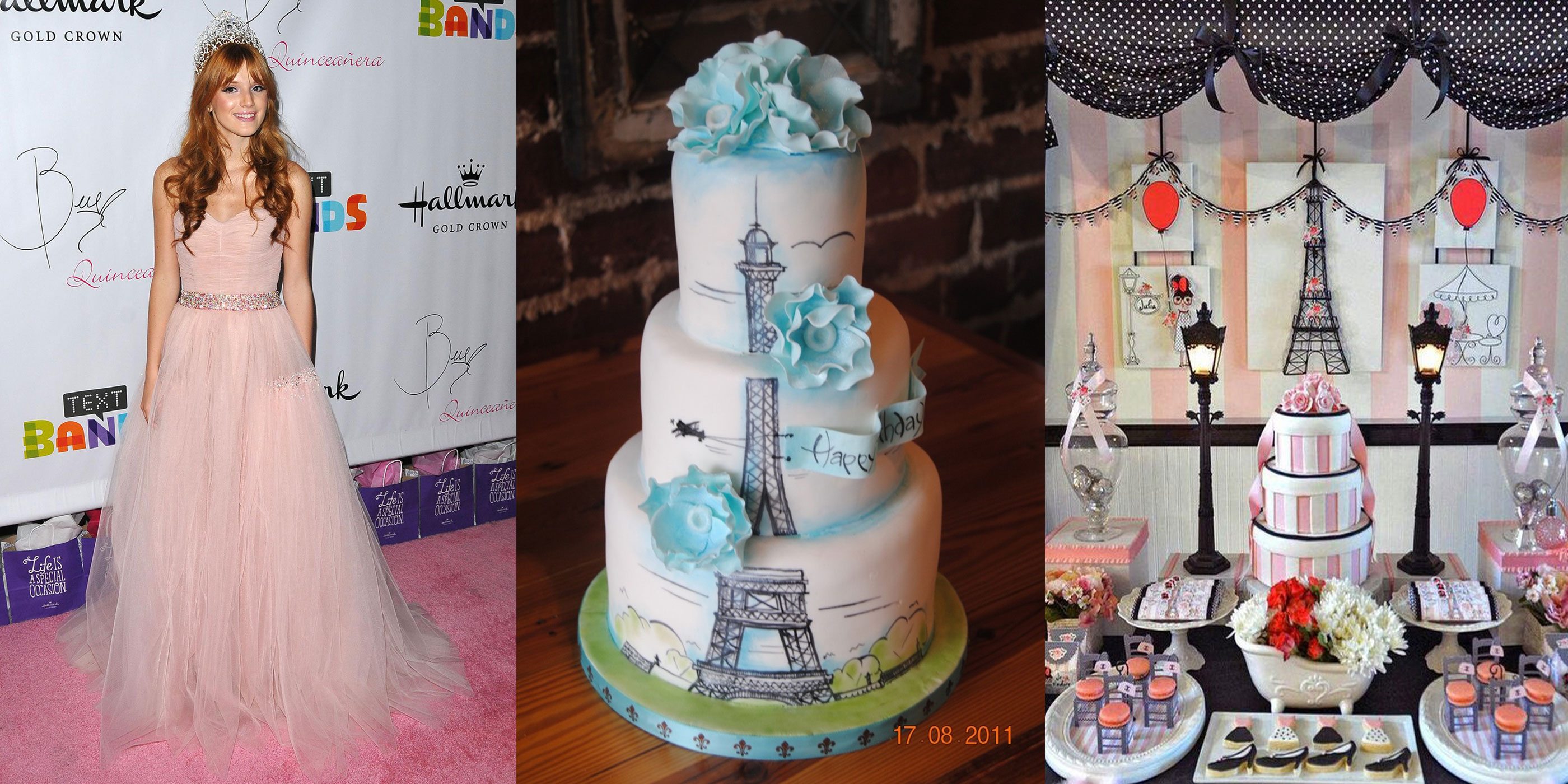 Paris: These themes strive for elegance and often feature French food or deserts with an emphasis on black, white, silver, and pink color. Slim suits for the court boys may look the best, since Paris is a fashion center and the slim suits are coming into fashion!
No matter the theme or trends featured in the quinceañera you're attending, wear what the girl asks (if you're in her court) and be aware of the theme and match your clothing to her choices if you're a guest. It's her day, so look nice, be polite, and celebrate this amazing day with her and her family.