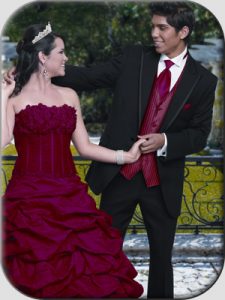 Rent a Tuxedo for Prom?
So you want to know how to rent a tuxedo for prom, but you don't know where   to start? All you have to do is contact your nearest Rose Tuxedo in the Greater Phoenix Area and tell them what you need.  They are experienced in helping deck out guys for prom.  They will answer any questions you have, and they will be glad to assist you in finding and fitting your prom tux or suit.
One terrific help for guys who aren't sure what kind of formal attire they are going to choose for their high school prom is the Gallery of styles, colors, and fabrics on Rose Tuxedo 's Pinterest page.  After reviewing that page, many of your questions will be answered.  Questions like, "Can you wear colored vests, colored shoes, and suits and tuxedos for prom?  Once you see the Gallery, you will see that the answer is "yes".
Many young men use prom night to show their individuality, and there is nothing wrong with that.  Rose Tuxedo has plenty of choices, and knows that choices are necessary, since all guys aren't alike.  Some young men like the idea of being their own person, but, also, really enjoy wearing a classic, timeless tuxedo.  A tuxedo jacket with black tie makes any guy look like a movie star.  At Rose Tuxedo , you can be fitted in a way that makes the tuxedo look like it belongs to you.  High School proms only come around once in a lifetime, so make the most of it by renting formal wear that is absolutely elegant.  The rental on your tux can range from$69.95 to $139.95 depending on what model you choose.  Rose Tuxedo usually runs about $40 less than the big chain stores. That means we can fit your budget without breaking the bank.
As already stated, you can wear a suit to the prom , as well.  Rose Tuxedo can fit you in many different suit colors and types. So the question, "Rent a tux for prom" could just as easily be "Rent a suit for prom?"  Again, look on site or on Pinterest, Rose Tuxedo and see the variety and colors of suits that are available for rental.  It is easier than you think.  Give Rose Tuxedo a week to 3 days notice of what you are going to be wanting, then get with your buddies and drive on down to the nearest Rose Tuxedo location and let them assemble and fit your shoes and suits and tuxedos for prom.  Returns are the next day and you can return at any of the Rose Tuxedo sites.
Just remember, have fun; keep the night safe; be gracious to all your classmates; and make your family proud.  Yes, your mom will probably shed a few tears when she takes your picture before you leave for the prom because that's what moms do.  Just give her a big hug, take a look in the mirror, and go enjoy your night.
Where to Rent A Tuxedo for PromA
Average Price to Rent a Tuxedo for Prom
Cost to Rent a Tuxedo for Prom
How to Rent a Tuxedo for Prom