So, you've got a big event coming up—a wedding, a fancy gala, or maybe even a James Bond-themed party. And of course, you want to rock the perfect tuxedo, because let's face it, nothing says style and sophistication like a well-fitted suit. But here's the catch: you're on a budget.
That's not a problem! This blog is your ultimate guide to renting tuxedos on a budget without sacrificing an ounce of style. We'll prove that you can look like a million bucks without actually spending a million bucks. Get ready to discover the secrets of saving money while still looking like the suave, dapper individual you were destined to be. It's time to suit up and save!
Research and Planning
Before you dive into the world of tuxedo rentals , it's crucial to do some groundwork. You don't want to end up splurging on a rental that blows your budget out of the water. Follow these to navigate your way through the research and planning phase:
1. Know Your Budget
Determine how much you're willing to spend on renting a tuxedo. Having a clear budget in mind will help you stay focused and avoid overspending.
2. Scout Local Options
Do a little detective work and explore local tuxedo rental shops. Check out their websites, browse through their collections, and note down their rental prices.
3. Compare Prices
Compare the rental prices of different providers to find the best deals. Don't settle for the first option you come across—shop around and unearth those hidden gems of affordability.
4. Promotions and Discounts
Keep an eye out for any ongoing promotions or discounts. Sign up for newsletters or follow rental shops on social media to stay updated. You never know when a sweet deal might pop up!
This phase is the foundation of your budget-friendly tuxedo rental journey.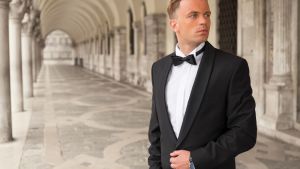 Choosing the Right Tuxedo
1. Know the Types
Familiarize yourself with different tuxedo styles. Whether it's the classic traditional tux, the sleek slim fit, or the modern twist, find the style that suits your personality and the event's dress code.
2. Consider Versatility
Opt for a tuxedo that can be worn for various occasions. Look for timeless designs that won't go out of fashion next season. Versatility is the name of the game when it comes to budget-friendly choices.
3. Color Exploration
Black may be the go-to choice but don't be afraid to venture beyond the traditional. Consider other hues like midnight blue or even a stylish charcoal gray. A subtle twist in color can make you stand out from the crowd.
4. Accessorize Like a Pro
Elevate your tuxedo game by adding personalized touches like cufflinks, pocket squares, or a snazzy bow tie. These little details can make a big impact without breaking the bank.
Timing and Scheduling
1. Plan Ahead
Avoid last-minute panicking (we've all been there!) and plan ahead. Reserve your tuxedo well in advance to secure the best prices and avoid those dreaded rush fees.
2. Off-Peak Advantage
Consider renting during non-peak seasons or weekdays. Prom and wedding season tend to drive up prices, so by going against the crowd, you'll likely find better deals and availability.
3. Delivery and Return
Discuss delivery and return options with the rental provider. Understand their policies, fees, and any penalties for late returns. A little attention to these details can save you from unexpected charges.
Maximizing Savings
1. Package Deals
Look for rental packages that include multiple accessories like shirts, shoes, and even cufflinks. Bundling these items can often save you some serious cash.
2. Standard Rental Length
Opt for standard rental lengths to minimize costs. Unless you have a specific need for an extended rental period, stick to the standard duration to avoid unnecessary fees.
3. Online and Thrift Options
Explore online rental platforms and local thrift shops for budget-friendly alternatives. You might be surprised at the quality and stylish options you can find at a fraction of the cost.
4. Group Discounts
Many rental providers offer group discounts, so gather your fashionable friends and save together.
With these savings tactics in your arsenal, you're ready to conquer the tuxedo rental game without breaking the bank. Next up, we'll dive into the realm of personalization and alterations. Get ready to add a touch of individuality to your ensemble!
Personalization and Alterations
1. Free or Low-Cost Alterations
Take advantage of any free or low-cost alteration services offered by rental providers. Ensure that your tuxedo fits you like a glove, enhancing your silhouette and boosting your confidence.
2. Accessories Galore
Elevate your style game with accessories that reflect your unique personality. From stylish cufflinks to snazzy pocket squares, these small touches can make a big impact without burning a hole in your pocket.
3. Borrow and Share
Don't hesitate to borrow accessories from friends or family members. It's a cost-effective way to add variety to your look and showcase your network of fashion-forward connections.
Post-Rental Considerations
Congratulations! You've successfully rocked your rented tuxedo and turned heads with your impeccable style. But before you bid adieu to your dapper ensemble, there are a few post-rental considerations to keep in mind. Let's wrap things up in style!
1. Provide Feedback
Take a moment to provide feedback and reviews to the rental provider. Sharing your experience helps them improve their services and assists future renters in making informed decisions.
2. Maintain Relationships
Keep a good relationship with rental providers for future discounts or referrals. Building rapport can lead to exclusive offers and the red carpet treatment for your next stylish escapade.
3. Share Your Wisdom
Share your experience and tips with others who are embarking on their tuxedo rental journey. Your insights can help them save money and look their absolute best.
Experience the Perfect Tuxedo with Rose Tuxedo!
When it comes to finding the ultimate tuxedo rental experience in Arizona, look no further than Rose Tuxedo. We're not just your average rental shop—we're your ticket to affordable elegance and unparalleled style. Here's why you should trust us with your tuxedo needs:
Unbeatable Deals
Who doesn't love a good deal? At Rose Tuxedo, we've got you covered. Take advantage of our incredible offers, such as 1 free tuxedo with 4 paid, 2 free with 8 paid, or even 3 free tuxedos with 10 paid. That's a steal of a deal! Hurry, because the 20% off special is valid until Labor Day. Don't miss out!
Diversity at its Finest
We believe that style knows no boundaries. That's why we proudly offer women's tuxedos as well. Whether you're a blazer-loving lady or seeking a chic pantsuit, our selection ensures that everyone can find their perfect fit.
Plan Ahead, Save More
Remember our advice about timing? By planning ahead and reserving your tuxedo with Rose Tuxedo, you're not only securing top-notch style but also taking advantage of our affordable prices. Avoid the rush and enjoy the peace of mind that comes with early planning.
So, why settle for less when you can experience the best? Visit our website to explore our stunning collection, amazing deals, and unbeatable service. Our friendly team is ready to assist you in finding the tuxedo that will make you the talk of the town.