Preparing for a formal event can be overwhelming, because of the need to nail the perfect tuxedo rental. In this blog, we will guide you through the process, from understanding dress codes to selecting the right style, color, and fabric. We'll also cover essential accessories to elevate your look and help you make a lasting impression. Get ready to turn heads at your next formal event with our expert tips and advice.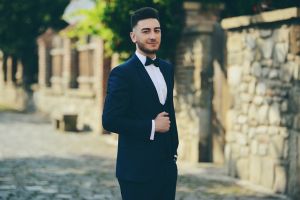 Understanding Formal Dress Codes
Knowing the different formal dress codes, like black tie and white tie, is crucial when it comes to formal wear. Understand the components of a tuxedo , such as the jacket, trousers, lapel, and accessories. Consider your body type and preferences when selecting the right fit and style. Choose the appropriate fabric and color for the occasion. Complete your look with matching shoes, a shirt, a tie, and a pocket square. Lastly, make sure your tux is properly tailored for a polished appearance.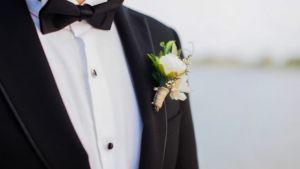 Exploring Tuxedo Styles, Colors, and Fabrics
From classic black ties to modern slim-fit options, there is a tuxedo for every man.
There are two main styles of tuxedos : classic black tie and modern slim-fit. There are also a variety of other styles, including double-breasted, peak lapel, and shawl collar. Tuxedos can be made from a variety of materials, including velvet, corduroy, and tweed.
When choosing a tuxedo, consider the occasion, style, and your budget. Try on different colors and fabrics to find the perfect fit. Renting is a good option if you don't wear tuxedos often.
Selecting the Right Fit for Your Body Type
Choosing a tuxedo style that flatters your body type and enhances your best features is essential, whether you're a groom or a businessman. Opt for a slim or tailored fit for a modern look. Ensure the jacket and trousers length is appropriate. Choose a fabric that suits your body type and comfort level. Try different styles and sizes to find the perfect fit and feel confident in your tuxedo rental. Complete the look with a stylish vest.
How to Ensure a Perfect Fit with Final Fittings and Alterations?
Schedule your final fitting at least a week in advance to allow for alterations. During the fitting, communicate your fit preferences and concerns to the tailor. Pay attention to sleeve, pant, and jacket length, as well as overall fit. Try on the complete ensemble, including shoes and accessories, to ensure a seamless look.
Confidence and Etiquette: How to Stand Tall and Impress at Formal Events?
Stand tall and exude confidence at formal events by maintaining good posture. Dress appropriately in a well-fitted tuxedo or suit. Practice good etiquette by being polite, respectful, and attentive to others. Engage in meaningful conversations and make eye contact while interacting with others.
Understand the event requirements and dress appropriately. Explore tuxedo styles, colors, and fabrics to find the right fit for your body type, and remember that white isn't the only color. Don't forget to include accessories like cufflinks and pocket squares. Decide whether to rent or buy based on cost and frequency of use. Schedule final fittings and alterations for a perfect fit. Exude confidence, practice proper etiquette, and impress at formal events with ease.
To score that perfect tuxedo at your next event in Arizona, look no further than Rose Tuxedo. Here, we have all manner of tuxes any style you might need for rent or sale with no rush fees, so you can always find the look that fits. Reach out to us via a phone call to reserve an appointment today (or any other day). We're open 7 days a week at various locations in Arizona.