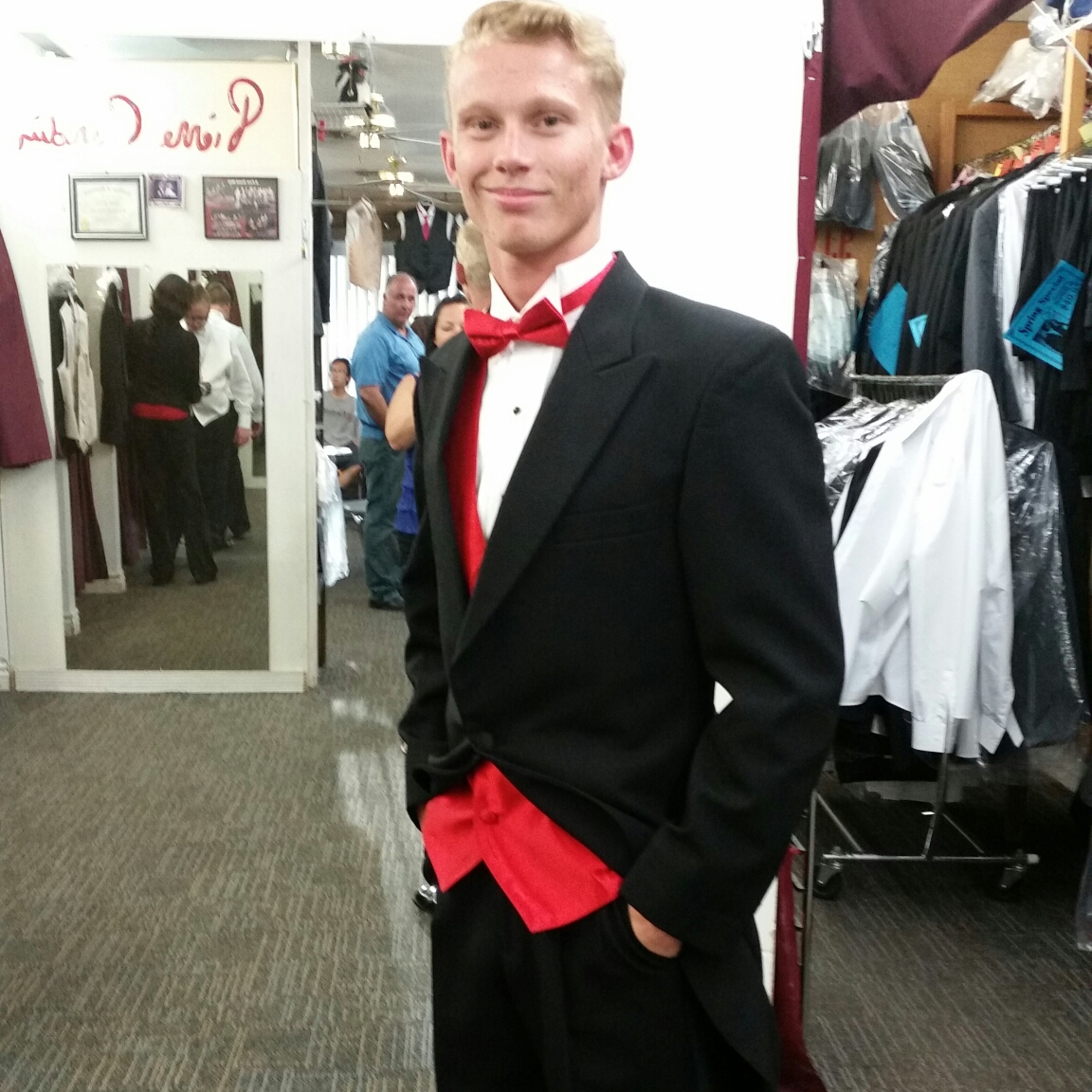 We've been talking a lot about weddings and men's fashion lately, so today we're talking to you Middle School and High School kids! School has been back in session for a few weeks, so it's time to start thinking about some of the major school dances! Start finding your dates for prom, get ready for Home Coming, Sadie Hawkins, and the Winter Formal! Here are some reasons why you should consider a suit or tux for your school dances– regardless of the implied or stated dress code.
#1 Sadie Hawkins
Once you have caught the attention of a lady suitor, it's time to think about your outfit! You can go with a well-fitted suit (a tuxedo might be a bit much) or you can try something a little different. Consider the various ways you can mix and match a 3-piece suit! Play with the shirt and tie colors or try a suit vest instead of a jacket. You can even mix it up further and try a suit jacket, slacks, and a classy graphic tee! Dress it up or dress it down to impress your date.
#2 Home Coming
Any time there's a homecoming dance, it's a big deal. Represent your school with a jacket, tie, or shirt in your school colors. Rose Tuxedo has a huge selection of colors and styles for you to choose from.
#3 Winter Formal
Sometimes called Snow Balls, or any other number of names, this dance will come up before you realize it (and then it will be Summer before you know it!). Start planning now to get the best deals on limos, suits or tuxes, and dresses. Try out some patterned ties or go with a classic black-and-white ensemble. Match a pocket square or tie to your date's dress, or go stag with some friends and find a theme! Besides Prom, this is one of the biggest dances of the year– especially for those who are not eligible to go to Prom (sorry, Freshmen!).
#4 College
While most colleges don't have traditional "dances" like high school, there are formal gatherings, especially for sororities and fraternities. Look your best and impress the ladies with a crisp suit for these events.
#5 PROM
Prom 2018 will be here before you know it. Some girls are already planning their outfit like it's their wedding day! If you already know who your date will be, respect her choices and be just as excited if possible!
Did we miss something? Have some questions about men's fashion, dances, party planning, formal wear, etc? Let us know and we may cover it here. We love providing fantastic formal wear to all of our clients. Arizona, we've got your back and your front. And everything in between. We'll have you looking amazing for all of your formal and semi-formal events.