We're less than 2 weeks away from Christmas, three away from New Year's! If you have other winter celebrations to attend to, we can help you as well! Winter is a beautiful time of the year where friends and family get together to celebrate any number of holidays! We have attire for your Christmas parties, Hanukkah gatherings, Solstice celebrations, Festivus festivities, and many more! Looking your best at a party is a must, right? Right. Let us help you look amazing for any and all holiday celebrations you have this year.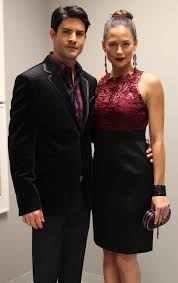 We have dozens of colors available for your suit, long tie, bow tie, shirt, pocket squares, etc. We have some beautiful dark reds and purples, perfect for New Year's and Christmas! We also have some beautiful blues and reds and a few shades of white. Forget the "Ugly Christmas Sweater" as a default to wear to your holiday parties, opt for some classier options with our suits , jackets, and/or slacks.
A suit doesn't have to be boring or make you look stuck up at the office holiday party. Tone it down with a plaid button-down shirt or throw on a festive tie, socks, scarf, or hat.
We offer suit rentals, of course, but why not treat yourself this holiday season and buy yourself a suit from our wide range of men's warehouse options! One suit can fit many needs from job interviews, holiday parties, weddings, funerals, birthday parties, and more! Mix it up with different shirts and ties and you could wear the same basic suit to every formal or semi-formal event for the entire year of 2016!
If you aren't much of a suit wearer but you want to impress your in-laws, boss, or that cute girl you know will be at your friends party, let us know and we'll hook you up with the best suits in town! You will be dressed to impress anyone and everyone at your holiday parties. Even if you know nothing about suits, we can help you find the right fit, color, style, and more.
Give us a call, visit our shop, or use our online tools to get the suit that is right for you! Online ordering is a breeze and we all know how stressful it can be going out and about shopping this close to Christmas! Order the perfect suit, jacket, slacks, shirts, ties, and more from the comfort of your computer chair, sofa, work desk, or anywhere you have internet connection and soon you will have an amazing suit delivered to your doorstep!
We're so glad to have had the chance to help the amazing men and women of Arizona look their best in our suits and tuxedos, and we hope you continue to give us your business as we dive head first into the New Year. We'd love to help you celebrate the new year as well as any and all events in your future. Keep us in mind!