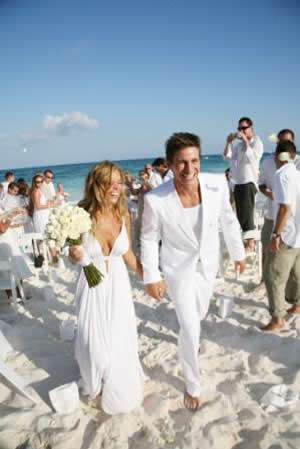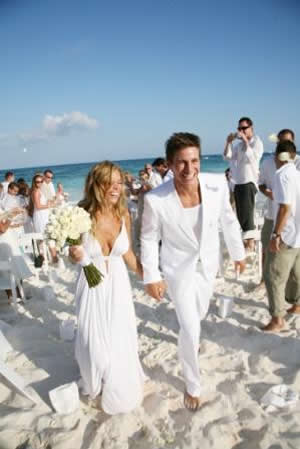 Out door Wedding Wear for Men
What should a man wear to an outdoor Wedding during the Summer months or any other time of the year in some warm states or other parts of the country. Sometimes the invitation my offer you what the dress code should be and sometimes you just have to take a chance and use your best thoughts.
It's all about the tone and time of the wedding or event. For a causal morning or afternoon reception, wear something light, maybe a light weight cotton suit or some light weight wool dress pants with a nice linen oxford dress shirt always a classy less formal way to dress.
Whether the location is San Diego or Hawaii or Arizona an afternoon affair invites a lightweight Blazer with some comfortable trousers. I think you can safely expect that the bride and groom want you to look comfortable and feel comfortable and put together under the Sun or early evening. Some guys might be able to pull off a white dinner jacket for day or a night event but you can never go wrong with a dark-colored lightweight wool suit which is always best. I also like a flower in your lapel. Summer wedding attire for male guests can be so much fun.
If the wedding really is on a beach and your thinking what is a "beach formal" then you must think tropical and elegant. Some really good looking shorts, sandals and sunglasses will need to be packed for this sand and sea voyage (no socks) and if your going to wear a hat it really needs to be a nice looking one. How fun and festive is this going to be? You got to love it. The ocean or bay or lake in the background and so much more will make anything you wear feel like your part of the destination wedding. The beach wedding during the warm late-summer months means summery attire without a jacket. But if the invitation says " black Tie ," then wear your tuxedo . Rose Tuxedo has tuxedo rental packages for destination weddings so you can feel comfortable in a light weight designer tuxedo that is the right color for the reception time of the day. We give our customers extended tuxedo rental time at no extra charge with a travel bag and even an extra shirt for 2 nights of partying. And feel free to go jacketless when you to too hot to handle it. 3 Arizona Tuxedo rental locations for all your outdoor wedding needs or Quinceanear serving all of Phoenix, Scottsdale, Glendale and Mesa. Our next blog with share some ideas for the ladies Wedding Summer dress.