Tuxedo Fitting Days
So much is said about a bride's fitting days, but the groom will also need to have a final fitting for his tuxedo or suit. It's far more than just checking that the jacket fits, though.
The usual time to schedule a fitting day, or try-on day, for your wedding attire is two or three days before your big day. In general, if your wedding is on a Saturday, you should plan on doing the final fitting on the Thursday before. You can come in any time, but the busiest times are always before noon and after 4pm.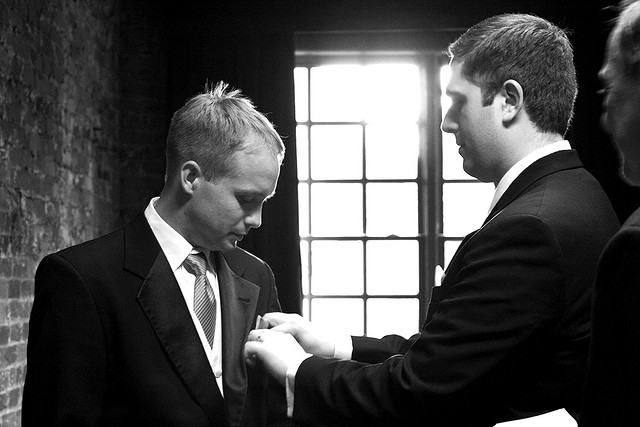 When you come in for your fitting, you will go into a dressing and put everything on. Here at Rose Tuxedo we have a tailor on duty, so that if something needs alterations it can be done right away. In most cases, it can be done while you wait.
Having formal wear experts on hand is important. We know what to look for when it comes to the proper fit of a tuxedo or suit. We make sure that every part of your suit or tuxedo fits you properly, from your coat to your shoes.
The most common alterations that need to be made are the coat sleeves or pant length needing to be taken up or down. Having a tailor on hand means this can be handled without any stress. Similarly, having plenty of local stock means that if you find you need a different size for your shirt or shoes, there's no problem in changing it.
When you come for your final fitting, you shouldn't leave until everything fits correctly and is comfortable. We want all of our customers to dance the night away and take lots of pictures. We want you to look great, whether you're the groom, the best man, or a guest. After all, you never know who you'll meet and who might be getting married next!
The first step to finding the perfect suit or tuxedo for your wedding is finding the right formal wear shop. At Rose Tuxedos, we have locations around Arizona and all of our stock is kept in-state. Glendale AZ, Scottsdale AZ, Phoenix AZ, Gilbert AZ. Come by one of our shops or give us a call to find out more about the services we offer.