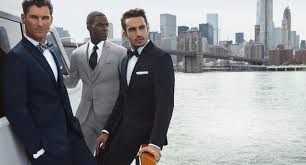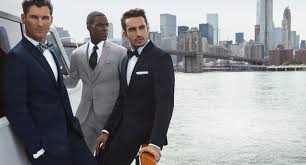 When renting a tuxedo, most people look for the perfect fit but that is not the only aspect of the tuxedos that should affect your decision. If you are renting a tuxedo, chances are that it is for your wedding day and you should look perfect on the greatest day of your life. So, let's make sure that you look your best on your wedding day, better than anyone else who is there:
The Neckwear
Many functions and weddings allow for any kind of neckwear whether it is a long black tie or a bow tie but for the most formal and perfect look you must wear a bow tie with a tuxedo. It could make you stand out from rest of the men at the wedding and that is your ultimate goal, to look better than everyone else. Another thing is a self-tied bow tie and it can hugely change your look, because the difference between a readymade bow tie and a self-tied bow tie is like night and day in terms of tuxedos .
Cuff Links and Studs
Tuxedo shirts can be fastened with studs and cuff links or with regular plastic buttons. Most of the people won't even care to notice your special buttons but those who do, will leave with a great impression thinking that they attended the wedding of a very good and professional man as opposed to if you are wearing a shirt with regular button, they won't think much of you. Studs and Cuff links also help in boosting the confidence of the person who is wearing them.
Pocket Square
Tux coats mostly have a pocket on the left side and the general rule is that if you have a pocket on the left side of the coat over the chest then there has to be a pocket square in the pocket. Many don't care to put this in their tuxedos but still look good but the thing is that if you put a pocket square in your coat, you will look even better. There are several ways to fold it but the simplest one that still looks good is straight edge fold.
Shirt
Always wear a white shirt, this should be a rule but since it's not, many people don't pay attention to this step and end up wearing black or other colored shirts. Although black shirts do well for other formal events, they should be a no go territory for a wedding. The best masculine effect is achieved by white shirts and a black tux. Another thing to note here is the collar and the best shirt is the one which has a turn-down collar.
So, if you ever want to rent a tuxedo with all the above things, for any formal event, just give us a call here at Rose Tuxedo to get the best tuxedo for the price you pay. Call today for a free 20% off Wedding or Quiceanera quote. We won't be undersold.