Spring may not have completely arrived yet, but you can be sure that there are quite a few brides getting ready for their spring a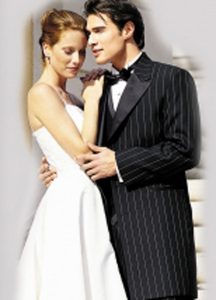 nd summer weddings.  Before long there will be a steady stream of gentlemen searching for places where they can find a wedding tuxedo.  They will probably go to one of the big chain stores first, like Men's Warehouse.  They do not yet know that Rose Tuxedo, one of the oldest hometown tuxedo rental businesses in Phoenix, is normally going to charge at least $40 less than any big chain.  Even if Rose Tuxedo of Phoenix and the Greater Phoenix Area wasn't less expensive the Men's Warehouse, it would still be offering:
On the spot alteration for grooms and groomsmen
High volume inventory to ensure fast delivery of formal wear in any color, design, or fabric you pick
Formal shoes for rent in several styles and colors
Personalized customer service for the groom and all friends and family in the wedding party
Onsite bridal consulting
Knowledge of what Phoenix gentlemen want in the line of wedding wear
Rose Tuxedo has been in business for over 30 years.  They know what they are doing.  Furthermore, they have assisted Arizonans for all these years and think of their customers as family.  That is not the kind of relationship you can build with salesmenat Men's Warehouse.
A wedding tuxedo is a very important accessory in the life of a gentleman.  The groom wants to look debonair and dashing, but he also wants to complement his bride and the entire wedding party.   When he walks into Rose Tuxedo of Arizona, he is going to know immediately that he will be their #1 customer for the time he is there.
Getting to Rose Tuxedo is easy since there are three centralized locations for the convenience of their customers. The Mesa store has been serving the East Valley for over 22 years.  Their 35th Ave. Metro store has served the West Valley for over 18 years in the exact same location.  The third location is the Central Phoenix store on the southwest corner of 24th St. and Indian School Rd.  So, you can see, wherever you find yourself in the Greater Phoenix Area, you are not far from a Rose Tuxedo store.
So let's look at the top three reasons you should choose Rose Tuxedo for your wedding tuxedo :
1. Their prices are better  and they will always beat the price of renting at Men's Warehouse.
2. Shopping locally at a tuxedo store that understands your needs and always has time to make sure that you have been served in the best manner possible, is always a good thing.
3.  The no-hassle guarantee that you will have the tuxedo you want, when you need it, and that it will fit perfectly, is a formula you do not want to mess around with.
Come by Rose Tuxedo, any location, soon.  They will show you the ropes and take care of you in perfect Southwest style.
Wedding Tuxedo for Groom
Wedding Tuxedo Rentals
Wedding Tuxedo Styles
Wedding Tuxedo Ideas
Wedding Tuxedo Alternatives
Wedding Tuxedo Colors
Wedding Tuxedo Cost
Wedding Tuxedo Options
Wedding Tuxedos for Men Styles
Wedding Tuxedo Looks
Wedding Tuxedo Rental Prices
Wedding Tuxedo Trends