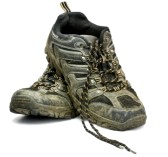 You may not know this, but dressing up can be fun.  We know that you love that t-shirt you got at Disney World five years ago. We understand that those gray sweat pants are comfortable and that you like to have them on when you're watching the big play-off.  There's no doubt that those old sneakers feel good, they look like there at least two sizes too big.  Still, what we're trying to say is that you will be surprised at how good you're going to feel in a handsome suit or tuxedo.  Almost everyday, we have young dudes coming in and acting as if they have been told we were dentists, not a tux rental business.  We are going to turn that around today, because we're going to give you five good reasons that wearing "dress-up clothes" id not the same as having a tooth pulled. :)
1. Ever heard the phrase "The clothes make the man"?  Well, we know that's not really true.  The truth is that character makes the man. But, what that phrase is trying to say is that when you have on sharp clothing, it can make you look in the mirror and say, "Hey, I'm a good-looking guy".  Another thing that the phrase is trying to get across is that if you are interviewing for a job, or running for an office, people have a tendency to judge you, at least in part, by how you look.  Come to think of it, that is a pretty important thing to think about when you have to interview or make a good impression.  Rose Tuxedo can have you looking spiffy in no time, and your chances of landing the gig will increase dramatically.
2.  If you are asked to be a member of a wedding party or have to participate in any other event that requires that you be in front of people, you are going to find that being decked out in the best looking suit available, or the most dashing tuxedo will give you the confidence and peace of mind you need to get over that stage fright that might try to creep over you.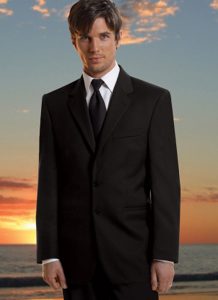 Who can feel nervous when wearing clothes that "make he man".
3.  If you are a high school graduate, you're young enough to have probably not worn a tuxedo very often.  If you rented a tuxedo for your prom, that might have been the first time .  Wasn't it kind of the first time that you felt, well, for lack of a better word, adult?   Tuxedos have a way of doing that.
4.  While you're still young, you can play around with your formalwear look.  There is nothing like a beautiful formal suit or tuxedo , but you can cool it out with a colored vest, cumberbund, bowtie, or pocket handerkerchief.
5.  There will come a time when you will know that if you are asked to wear a tuxedo to a function, that function is probably going to be special, and you are probably going to have a blast.  So, now the secret is out.   Tuxedos can, and almost always are, FUN!