You young ones probably don't remember this tune, but Frank Sinatra (you probably don't know him either) :) sang it in 1955.  Look it up, it's pretty corny. But we digress.  What we are really here to do is assist you in learning all you need to know about gett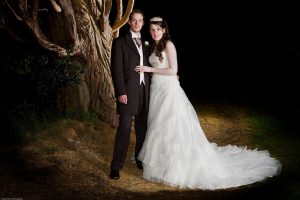 ing ready for the upcoming nuptials (yours, or someone else's). Here's something else you might want to look up. Where did the word nuptials come from?  It's from the Latin for marry. But, again, we digress.  Here's what you need to know about nuptial ceremonial dress.
The picture to the left is a picture of the bride and her groom, who happens to be wearing a Rose Tuxedo summer tuxedo.  You might be wondering what it is that is different about a summer tuxedo? Obviously, Arizona summers tend to be, well,hot. Temperatures dictate which weight or appropriately colored tuxedo is a good choice, since both help alleviate a bit of the intensity of the high temperatures.  Here are four options, which Rose Tuxedo can supply, that are going to look good on you and feel good in warm temperatures.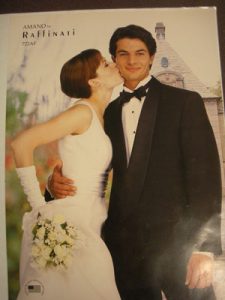 1.  If the wedding is going to take place in a church, temple, or cathedral, that means you are probably going to need the traditional get-up.  That would mean suit or tuxedo in black or midnight blue; a white dress shirt; a black bow tie; a cummerbund, and black dress shoes.  Interestingly, it is not so much the weight of the fabric in a tux that makes it cooler, it is the weave. Loosely woven fabric is cooler because it allows for air circulation. Summer tuxedos, in order to be cooler, need to be about an 8 oz. twill, or an 8 oz. tropical material.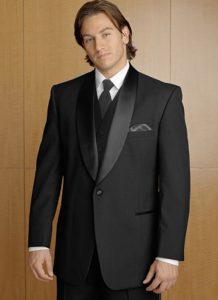 2.  Let's say you are going to a cutting edge wedding at a lovely wedding hall.  The invitation might say " black tie optional".  That usually means that the groom will be wearing black tie , but he expects you to at least wear a tux. A single-breasted  basic tux with a tie will just the ticket for a night like this.  This one is going to make you look a little Daniel Craig-ish, which the gals will love.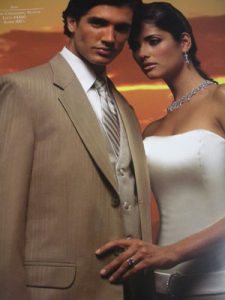 3. If you're going to an outside wedding, or a poolside wedding, or even (lucky you) a destination wedding, the invitation might say "semi-formal".  This means you can wear a handsome suit, and in Arizona or Belize, it can be tan in color.  Add a silk tie, a pocket handkerchief,and boat shoes or sandals, and watch the girls stare.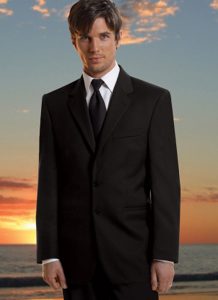 4. For a breezy summer night, a dark suit is a great way to go.  You can pair it with a solid tie, casual cufflinks, a white linen shirt, and brown or black Oxfords.  Nothing looks better than a well-fitted suit, and not much can make you feel as handsome as you will in this combination.
Understand that we have given you suggestions.  In these days of casual and individual dress codes, you can often make your attire fit your personality.  Just be sure that you like the way you look, because you are going to look good after you go to Rose Tuxedo Arizona.