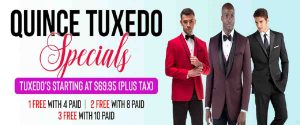 With fall coming up that means it's the perfect time to host outdoor weddings. Here at Rose Tuxedo , we offer many types of rental suits and tuxedos . And no matter the look you're looking for we can get it for you. We all know that the theme of the tux completely relies on the weddings Destination. If it is a western-themed wedding you could try considering a Western Laredo Tux #132 on our site. Or if it's a beach wedding why not consider a white Quinn's tux that we offer? What I'm trying to get across to you is that no matter the occasion here at Rose tuxedo we have your style for every occasion.
Make it easy!
Let's say you and your groomsmen need to all look sharp and cunning for your big day. You can relieve the stress of everyone doing shopping on their own and get it taken care of at one place. Here at Rose Tuxedo, we try to make your stressful events less stressful and more enjoyable. Your wedding day is a big day and the groom should be able to enjoy it just as much. So why not take a safe step and choose Rose Tuxedo to ensure your happiness!
Call us!
We have 3 Rose tuxedo locations, we are located in Phoenix, and Mesa. We are here to have your back with any of your event needs. From tuxedo rentals to suits we are here. When you stop by you will be blown away by the amazing selection of color variations we have to match your style! You'll be in and out and next thing you know in a tux that you will remember for the rest of your life. We look forward to making your occasion exactly how you dreamed it.
Other occasions
Just because it's turning in to a wedding season doesn't mean that we can't forget of all of your other needs. Work events or just big party celebrations, we can still get you dressed to impress for the occasion. With our variety of Suits, there's no way you could leave here unhappy. We always make sure of that! So feel free to stop in or give us a call with any of your tuxedo or suit needs at 602-375-8280.