Weddings In The Summer Months?
Well depending on the time and day or perhaps even location, for example in the hot state of Arizona you can never go wrong with a dark-colored lightweight wool suit, it'll keep you a little cooler and still looking nice! What about in Hawaii? There on the beach, a groom can easily wear a nice thin white button-up and some nice big linen pants rolled up and cuffed at the bottom with some nice classy sandals
Beach /Destination wedding?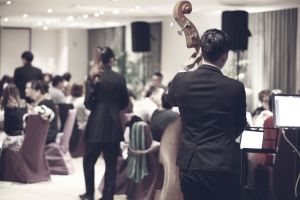 If you have no idea what beach formal is you might have an idea and think tropical and elegant. You're going to need fancy shorts sunglasses and a pair of sandals to go to this wedding destination. You should start by knowing a few things like how festive it's going to be is it by the ocean or the bay or even the lake. And during this one, you can be completely cool without a jacket in your attire.
Dress Code?
Some weddings you get invited to our required to wear certain things like for instance "black-tie" and when you hear black tie and you automatically think about your trusty tuxedo, and now people think do I wear my dress shoes? Well depending on where it is you could always wear a nice pair of black velvet slippers so you can't go wrong!
And where else is better to get one, here at Rose tuxedo we have rental packages for your specific destination weddings so you can always feel comfortable in a lightweight cool designer tuxedo that is the right color and fit. We take pride in how our guest looks and feels! If something seems off let us know and we will do whatever it takes to assure you feel like a million bucks for the big day! And why not make traveling easier to? We always throw in some travel bags too, so it's always a breeze to travel.
People are always contemplating buying a suit vs. renting. The style of the suit is also going to change regularly, so there is no need for you to spend a ton of time on a suit that is going to be out of style later. This is where a lot of money is wasted on a suit. A tuxedo rental can save you a lot of money because you can rent suits multiple times and always be in the latest styles. You may find yourself too embarrassed to wear an old fashioned suit that you paid money for a couple of years ago. Styles change all the time. There is no need for you to get stuck with the same type of suit when you can rent and return one for much less. At Rose Tuxedo We have three proud Arizona tuxedo rental locations for all your outdoor, indoor, and destination wedding needs. Feel free to give any location a call to see how we can help you look, how you want to look for any of your wedding needs. Proudly serving all of Phoenix, Scottsdale, Glendale, and mesa.