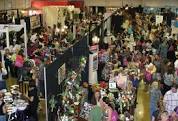 5 Reasons to Visit a Bridal Show
With technology playing a big part in the daily lives of most people, is a bridal show necessary? There are many ways to find services for your wedding online but having everything you need for your wedding in one spot, will probably save you a lot of time. The chance to meet all of the vendors, reserve dates and hire some one you meet face-to-face is still the best way to get things done. Rose
Tuxedo
has been doing bridal shows for over 25 years and we have seen the changes but the basic idea is still the same, meet some vendors under one roof.
Make it a Date
No matter who you take a bridal show can be a great way to have fun for a few hours. If anything just to check out the drawings and discounts for your special day. Instead of planning the whole wedding in a day, think about getting great ideas for your wedding and meeting those potential vendors. It's hard for some vendors to create a beautiful booth and bring all the have to offer but most do a great job. Rose Tuxedo fills it's booth up with a nice amount of mannequins and lots of vest so the brides can find their color to match the dresses.
Compare
A show is still a great way to compare services right a way. You will probably leave knowing exactly who you want to work with because of how they interacted with you. You are able to ask questions about what you want and compare that to what services are offered. Getting a feel for experience versus budget is easier at a show as well. We offer a great bridal show special for rental all you wedding tuxedo needs. Our Special is $89.95 Classic Collection Tuxedos , over 15 different styles with shoes and a choice of over a 1000 vest and ties/bows. A little secret, our tuxedo rental show special is good months after the show if you mention you saw us there.
Time-Saving
The internet is great for a lot of things, but the few hours you can spend hiring people at a bridal show can save days of searching and phone calls. A budget is usually a concern and hard to plan over many months, attending a bridal event can speedup the planning and alleviate some stress. Nothing like tasting cake and shaking on it to make an exciting day of wedding planning.
Local Businesses
Vendors and participants can be local businesses that otherwise might not be found. If you believe in shopping local, a show is the perfect way to get to know everyone in the community. Shopping local for all your wedding needs is awesome!! We can do a better job than the big box Men's Ware house or big bridal shop. Better service and better prices.
Enjoy the Moment
If you aren't quite ready to set a date yet but you are engaged, wedding planning is a great way to enjoy the fact that you are in love. This is also something you can do with your significant other to come up with a date based on when venues and vendors have availability. Rose Tuxedo has 3 convenient locations, stop in to see all we have to offer. www.rosetuxedo.com