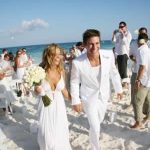 The song goes, "Here Comes The Bride", as you well know…..
The bride should buy her dress before the bridesmaid dresses and tuxedos are even thought about.  Obviously, in today's day and age, choosing the venue could be #1, since it sets the mood and must be reserved way ahead at certain times of the year.  But after that, the gown becomes "the menu before the dinner is served".
Gowns with long trains require high formal tuxedos and bridesmaid dresses.  Since most gowns are viewed from the back for the longest period of time, a groom in tails is a perfect compliment to a bride's gown with a long train, they're made for each other in fact. Other more informal bridal gowns introduce a less formal groom's attire and groomsmen , perhaps even a trendy suit look.  The bridal gown color is also a precurser to the color of the men's shirts in the wedding party, white gown, white shirts, ivory gown, ivory shirts.
Many bridal gowns are special ordered requiring months and then the alterations to make that dress fit perfectly, all requiring time.  But when the bride, her mother, her friends etc. have chosen that special dress that makes her feel like a princess, then the pieces fall into place.  The color, style of bridesmaid dresses are chosen, groomsmen 's ties, vests to match or not match but compliment those dresses, boutinieres, bouquets and all the venue accessories and  table decoration colors to coordinate with all the clothes and flowers you've chosen for your special day! Rose Tuxedo takes care of all the surrounding Phoenix cities for their Men's formal wear needs. We rent designer tuxedo's and suits. Arcadia AZ is only 3 miles away and so is Paradise Valley AZ. Stop in and let us help match your dresses, we have years of experience.