Vintage tuxedo Wedding
Vintage wedding themes are a big trend and are set to stay popular for the foreseeable future. While much of the trend is focused on the decor and hat the bride will wear, it is just as important for the groom to fit in with the theme.
There is a lot of variety in what the vintage theme can mean. In most cases, you will want something timeless and classy. A tuxedo is always a good option, but you might want to consider an alternative color. The Jean Yves Parisian tuxedo in chocolate or latte is an excellent choice for a rustic vintage wedding, as both can offer the same visual effect as a sepia-toned photo.
If you feel a tuxedo would be too formal for the vintage wedding you are planning, consider a fantastic suit. Light colored suits are great for summer weddings, and fit in with the vintage theme perfectly.
Some vintage weddings, especially those with the Gatsby influence, are an opportunity for you to go all out. For these, a classic black tuxedo is the only choice. The After Six tails-style tuxedo is an excellent choice for a very formal style that will bring the Jazz Age to mind.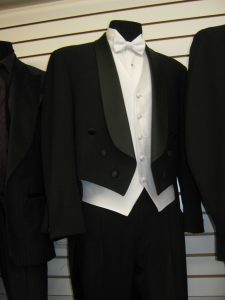 Whatever type of vintage wedding you have planned, we have the perfect choice for your attire. All of our stock is kept here in Arizona, which means there's no need to worry about the tux of your dreams being unavailable. To find out more about finding the right tuxedo for your vintage wedding, come by any of our three Arizona tuxedo rental locations.
Vintage Wedding Hairstyles
Vintage Wedding Decorations
Vintage Inspired Wedding Dresses
Cheap Vintage Wedding Ideas
Vintage Wedding Sets
Vintage Wedding Reception Ideas
Vintage Style Wedding Dresses
Vintage Wedding Cake Toppers